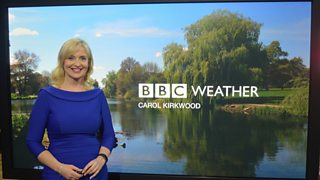 Millions of people come to the BBC for weather information each week - whether it's for planning the day's activities or a trip. Over the last year we've been working with experts from our new weather services provider, MeteoGroup, to develop an even better experience for those viewers. As of today you will see a host of new weather graphics and forecasts on TV that they have helped us create.
With this new modern look, lots more data and the latest in technology and forecasting science, this is the biggest change to BBC Weather, both for UK and international audiences, for more than ten years.
Some of you may have already noticed updates on our popular weather website and app, which we started phasing in a couple of weeks ago. Everyone will move over to the new services on these platforms this week. Weather presenter Sarah Keith-Lucas explains more about the changes here.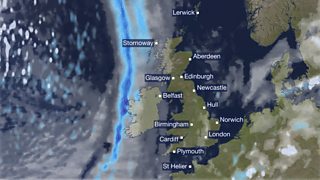 Some of the key changes you will see after Sarah has done her first live TV forecast using the new system at lunchtime today are:
BBC Weather now has a contemporary design, and the maps are consistent across all BBC platforms. We have upgraded all these elements to match the progress made in graphics design including on your PCs and smartphones.
Along with more realistic mapping, we can now choose to feature additional useful details such as key roads and urban areas.
High quality moving graphics will reproduce detailed weather conditions represented by high resolution data.
Our presenters and producers can also easily customise their forecasts for TV and online - adding different layers of data over the maps to tell the most relevant weather story. The BBC is now using a flat map projection for the regional and UK views. In addition, a realistic globe allows presenters to move around the world, displaying a variety of data from falling snow particles to areas likely to see the aurora.
We now have access to more weather data than ever before. As a result we can now provide up to 14 days of hourly forecasts for more UK and international locations online and on the app, and up to a seven day forecast on TV and radio.
On the BBC Weather app - the most used weather app in the country - and on our website, there are new features to help you plan your day. The first is the 'chance of precipitation' (sleet, rain or snow) and the second is the 'feels like' factor which will help you decide how cold it will feel outside, particularly in different wind conditions.
You might still be wondering why we have made all of these changes? The BBC was required to put its weather services out to tender. After a rigorous procurement process MeteoGroup successfully secured the contract with the BBC based on providing new graphics functionality and a wide range of data. They will also provide us with innovative ways of forecasting the weather as well as value for money for the licence fee payer.
Our much loved weather presenters will still be on your screens. They will continue to explain the science and deliver their forecasts in a style you are accustomed to, explaining all the phenomena from the jet steam to thunderstorms, when and why they are influencing our weather system and how it might impact on your day.
Consistency is incredibly important at times of risk so we'll still be working with the Met Office to report their severe weather warnings. The BBC will continue to broadcast these important messages across the UK. We are also keeping our partnerships with the UK's flood response agencies, The Department of Infrastructure in Northern Ireland, Scottish Environment Protection Agency in Scotland, The Environment Agency in England and Natural Resources Wales to ensure you receive the best possible information about any flood risk. We'll also be working with Defra for air quality information.
The BBC are also partnering with the University of Leeds National Centre for Atmospheric Science and working with MeteoGroup to ensure that we deliver the most accurate, relevant and up to date forecasts for the UK.
And finally, a note to the 180,000 plus BBC Weather Watchers. Members of this fantastic club really help us tell the story of what the weather is doing every single day - from Land's End to John o' Groats and the islands beyond. They provide us with a record of the weather as it happens as well as some beautiful pictures and observations from across the country. So, thank you for sharing your photos with us, and our audiences, every day, and please carry on!