Hello, and welcome to the new home of Red Button's weekly highlights.
This week we've got exclusive extras from CBBC's 4 O'Clock Club, the first events from the Sochi Winter Olympics, Six Nations highlights and comedy from BBC Three's Uncle.
4 O' Clock Club Extra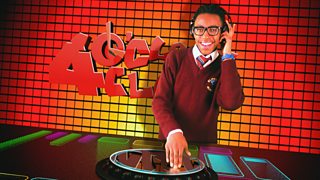 4 O'Clock Club star Khalil Madovi
Attention class! If you are a fan of 4 O' Clock Club , then press Red for exclusive extras. CBBC star Hacker teams up with Mr Bell to get the gossip on Miss O'Brien in this one-off mini drama. Khalil, who plays Josh Carter in the series, talks about his love of music and there's a sneak peek at the next episode.
Saturday 1 February, 7am-2:30pm, 6pm-8:pm
Sunday 2 February, 12pm-4:55pm, 5:30pm-7pm
Monday 3 February, 7am-11am, 12:30pm-7:30pm
Tuesday 4 February, 7am-7:30pm
Wednesday 5 February, 7am-11am, 12pm-7:30pm
Thursday 6 February, 12:40pm-2pm, 2:45pm-3:30pm
Sport highlights this week
Final Score and the Football League Show make their regular appearances at the weekend, along with highlights from the Six Nations Rugby and the Davis Cup. As the week closes, join us for the first events and the opening ceremony of the Sochi 2014 Winter Olympics.
Throughout the Winter Olympics, up to two red button streams will offer live content and highlights from Sochi. Six live streams and on-demand video will be available through the BBC's Connected Red Button service on Virgin Media TiVo and Sony Freeview Smart TVs, and via the BBC Sport app for connected TVs. Find out more about accessing BBC Connected Red Button here.
You can keep up with the schedule of live events at Sochi via the BBC Sport website. For a full list and times of all sport coverage on the Red Button, click here.  Please note timings of live events are subject to change.
Extra from BBC Three's Uncle
Catch the music video 'No Survivors' from BBC Three's new slacker comedy Uncle.   http://www.bbc.co.uk/programmes/b03q46jm
Monday 3 February, 10:25pm-4am
Tuesday 4 February, 10pm-10:30pm, 11:20pm-4am
Wednesday 5 February, 10pm-4am
Richard Dimbleby Lecture
The annual lecture in memory of the great broadcaster Richard Dimbleby comes this year from Christine Lagarde, who will explain her thinking on the challenges facing the global economy.
Tuesday 4 February, 10:30pm-11:20pm


Victoria Sorzano is Duty Editor, BBC Red Button