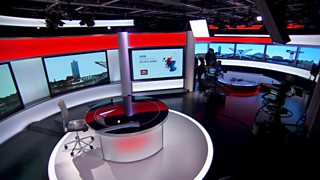 As BBC Scotland gears-up for one of the biggest years in its history, with the independence referendum and the Commonwealth Games, journalist and presenter Graham Stewart offers a sneak preview of Pacific Quay's redesigned news and sports studio, which launches on-screen on Monday.
I recall when we moved to our new purpose-built headquarters on the banks of the River Clyde in Glasgow in 2007, it was hailed as one of the most modern, state-of-the-art digital broadcasting facilities in the world. Since then however, we've seen the move of network BBC News to New Broadcasting House (NBH) in London, and BBC Sport to MediaCityUK in Salford, both with their impressively futuristic-looking studios. In juxtaposition with our Scottish output, Studio C at Pacific Quay was in danger of looking a bit dated. So, with a big year ahead of them, the bosses here decided now was the ideal time to bring the visual look of their flagship news and sports programmes up-to-date. No sooner had I finished reading one of our weekend bulletins at the end of the festive period, than the designers and technicians came in to take the old set apart — and for the past three weeks we've been decamped from our familiar home.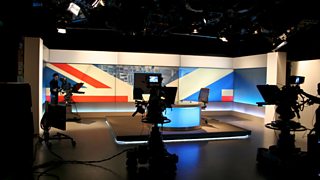 The old set re-built in Studio B at Pacific Quay, set up for an independence referendum webcast
When you consider that Studio C is in almost constant operation — from our bulletins on BBC Breakfast, through to Politics Scotland on a Wednesday afternoon, the main lunchtime and teatime editions of Reporting Scotland, the 8pm, the 10.25 and Newsnight Scotland, not forgetting Sportscene across the weekend — you get an idea of how potentially disruptive the upgrade could have been.
To make the transition as seamless as possible, the existing set was carefully taken apart piece-by-piece and transported four floors down, where it was re-built in Studio B — normally home to network productions such as Eggheads and Nina and the Neutrons. The idea was that the viewers would be oblivious.
Of course, behind the scenes it was all planned like a military operation; Will Smith, the lead designer, has been working on the logistics for months. "We spent," he says, "around six weeks off-site making a kit of parts, so that when we came to install it in the studio the turnaround was as tight as physically possible."
Will was brought in from BDA Creative, the same design company responsible for the new sets at NBH and Salford. In fact, Scotland's new Studio C is loosely modelled on Studio B at NBH, home to Newsnight, The Andrew Marr Show and Sunday Politics. Like its London counterpart it has two areas — a so-called 'hard set', with the traditional news desk, for programmes like Reporting Scotland; and a more relaxed 'soft set', with comfortable chairs and a coffee table, for sports and discussion programmes. It's very much like the set used by our colleagues at Wales Today.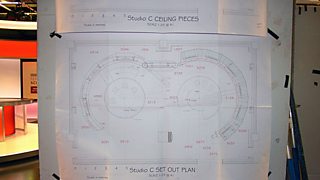 The master plan for Studio C with its two separate yet connected sets
Will explained to me his philosophy for the new look: "The idea was to create a set which would be fully flexible for lots of different programmes. It made sense to use the longest wall in the studio and make use of the depth. That way you can create a linking shot from one end to the other, making full use of the available space."
It's certainly captured the imagination of Andrew Browne, the newly-appointed editor of Reporting Scotland, who's been thinking about how best to use that space during this week's intensive rehearsals. "It gives us much more flexibility," he told me. "So in our forthcoming referendum coverage we could, for example, have a presenter cross from the news set to a specially-branded referendum discussion area."
Attention has also been paid to the visual aesthetics. While Studio C has always been HD-ready - indeed, it was the BBC's first HD news studio -viewers were unable to benefit from the improved picture quality until transmission facilities were upgraded and BBC One Scotland moved to HD in January 2013. According to Will Smith that, in turn, has informed some of the studio's new features: 
"The light-boxes we've installed give a deeper, richer saturation of colour, which will hopefully differentiate the various programme brands more successfully. We've replaced the old rear-projection screens, which weren't in HD, with ten high-end 103-inch HD plasma screens. That will make the background pictures and graphics, such as the weather maps, much sharper. In addition, the studio also has a touch-screen monitor which can be used by presenters and reporters."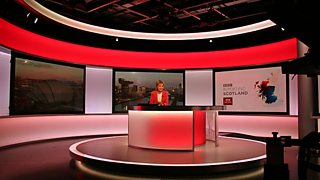 Reporting Scotland presenter Sally Magnusson rehearses in the new Studio C ahead of the launch
"The screens," says Browne, "can help us tell stories more clearly to audiences, with improved graphics and the ability to move around the set to make it all more visually interesting. It's going to be an exciting year for news and sport in Scotland and our new set is only going to add to that. The team here have been really energised, so I think our viewers are going to appreciate the change come Monday."
Graham Stewart is a broadcaster and journalist with BBC Scotland