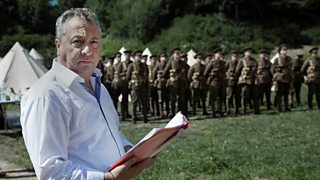 The Passing Bells, a new five-part drama for BBC One, runs from Monday 3 – Friday 7 November, as part of the BBC's programming to mark the Centenary of World War I. About the BBC caught up with series writer and BBC veteran Tony Jordan to find out more about the programme and his writing.
I first heard Tony Jordan speak earlier this year at the BBC Writersroom TV Writers Festival. He was the chairperson and introduced proceedings with panache and a breathtaking candour. When I spoke to him recently from his shed (yes that's where he writes– he used to write in his garage, but he's upgraded) the same honesty struck me again, along with a bewildering modesty and a joyous ability to laugh at himself.
Maybe that's because Tony's clearly a 'real' person (not starry or pretentious at all). He started out as a market trader, and sort of fell into writing for television, under "false pretences":
"I was born in Southport near Liverpool, and I was travelling all over the country doing markets. I ended up living next door to a guy called Doug Briggs who was trying to write for television and we used to talk about it a lot. At some point he said, 'Maybe you should try and write a script, because your stories are great'. So I did it as a bit of a laugh and put it in a drawer. Then Doug said, 'You have to send it somewhere!' So I put it in an envelope, wrote BBC London on the top and posted it.
"I'd forgotten all about it – then after about three months I got a letter from the BBC saying, 'We got your script, would you like to come in and talk to somebody?' Next thing I know I'm in the EastEnders office, where they assumed - because they knew I was a market trader - that I was an East End barrow boy. They thought I'd be an authentic voice for the show."
It was only when, several years and many scripts later, Southport-born Tony was approached for a feature about how growing up in the East End had affected his writing for the show that he was forced to admit he wasn't actually a Londoner.
The interview was politely declined and Tony continued to write for the programme for another 10 years. EastEnders became the making of him as a writer. He had a wonderful productive relationship with a script editor called Jane Gillespie early on, who "nurtured and taught" him. That winning relationship and others led to Tony writing over 200 episodes of the soap, of which he seems justifiably proud:
"I loved the Slater week of course, [where Kat Slater was revealed as being Zoe's mum]. You know, when people have a pop at EastEnders you can say, 'Have a look at this and then say that again,' that was a piece of drama that would stand up next to anything.
"I also enjoyed the daft episodes. I used to send EastEnders to Spain a lot: Phil and Grant having gut-buster breakfasts and carrying women over their shoulders. And I went back four years ago to do June Brown's [Dot Cotton] monologue episode, that was something I'd always wanted to do. June's an amazing actress, she's on another level."
Despite his unusual, blessed path, Tony's passionate about inspiring and supporting new writers, who he calls the "life blood" of television. So much so, his production company established the Red Planet Prize to find new writing talent for the medium.
"I was expelled from school when I was 14, so I didn't really have much education, I wasn't academic at all, I wasn't a great reader of books, I didn't want to be a writer. I literally fell into it by accident, which I know is really annoying to writers out there who are desperately trying to get a break. I didn't start writing till I was 33 so I'd already had a life before I started and that really helped."
He describes with eloquence the complex, fundamental condition of being a writer – requiring a deep empathy, but that in turn making you sensitive as a person, and susceptible to the views of others. And that's a dangerous place to be, when everyone is looking at and judging your work.  He went on to explain that this is why the relationship with a script editor is key; a supportive one is invaluable, but if they're not helpful it makes life really tough for a writer.
Tony's entry to EastEnders also began the start of his special relationship with the BBC:
"I've always said I'm kind of a BBC boy. When I sent my script in to the BBC all those years ago it went to the BBC Script Unit - which is now the BBC Writersroom - and their job was to look for new writers and new voices. The BBC read that script, the BBC got me in and talked to me, the BBC placed me on a show and gave me a new profession, and that's why a vast majority of my output has been for the BBC. Shows like Hustle and Life on Mars, and Holby Blue, The Nativity, The Passing Bells, they're all BBC shows because I'm a BBC boy.
"At the moment, with my company Red Planet, I'm working with ITV, Channel 4, Sky and they're all great, but the BBC feels like home to me. Ben Stephenson [BBC Controller, Drama Commissioning] and Polly Hill [BBC Head of Independent Drama] are brilliant because if you look at their output – it's been amazing and continues to be. They make you feel treasured, they're really smart, with incredible instincts. I love working with them."
That relationship continues with Tony's forthcoming series The Passing Bells. A five-part drama it follows the experiences of two young men, one English, one German, who become soldiers in the First World War.
"It occurred to me every war film I'd ever seen was the same: good guys, bad guys, triumph over adversary kind of thing, or messages: the horrors of war exposed. And when I thought about the First World War I realised all my images of it were disjointed, black and white pictures in my head, with people I couldn't relate to or understand. So I thought, 'I want to do something, but I don't want to do a war film, I want to just understand who those boys were who went to war'.
"So I took two characters, a young British soldier and a young German soldier, and avoided all the clichés, there isn't a single officer in it, no 'lions led by donkeys', or 'tally ho, over the top chaps' none of that. We only see one real battle, and there's no good guys and bad guys, there's no accents, we just follow these two boys through the war.
"I'm trying to make people engage with the war emotionally, it's supposed to make you feel something, not learn something. There are lots of documentaries for that, but this is to bring into colour the stories of those kids that were sent to war."
Whether Tony's face is familiar or not, you will very likely have watched something he's penned for the BBC, and he's plenty more interesting projects in the pipeline to follow The Passing Bells.
"The big shows I'm ensconsed in at the moment are Dickensian [a drama set in Victorian England using characters from all Dickens' writing] – I am spending my days writing scenes between Scrooge and Fagin and then I go to Mr and Mrs Bumble's for tea. Mental. I'm loving it. We're also doing another series of Death in Paradise this year."
And on the rare occasion when Tony gets some time to himself he avoids watching drama on telly, opting instead for documentaries.
"I'll sit and watch Come Dine with Me for hours, and I organise my lunchtime so I can catch Bargain Hunt. I hate watching drama because then I'm still working.
"My wife and I were sat watching EastEnders about 10 years ago and we'd just introduced Kat and Alfie. They were arguing on screen and I'd forgotten, but it was word for word an argument my wife and I had had the previous month… I could feel her turn and stare and me – she was furious. She said, 'I understand that you have to use your life experience but what really gets me is that in the middle of that argument you must have been thinking 'I can use that'.' It is a bit like that – taking notes for use later. I'm always nervous when we watch stuff together in case she recognises anything."
So while Tony's avoiding watching his own work on telly for fear of getting a clip round the ear, the rest of us are setting our digiboxes to record it, or watching it live.  I know I'll be making a date with The Passing Bells all next week on BBC One – with five programmes, one each night in the lead-up to Remembrance Sunday it'll be a television event that I don't want to miss.
Hannah Khalil is Digital Content Producer for About The BBC website and Blog.