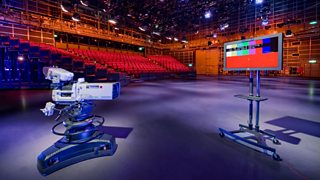 Studio 'TC1' at Television Centre. After refurbishment, BBC Studios and Post Production will continue to run the studio in 2015.
At BBC Studios and Post Production, we've been tremendously proud to provide the technical facilities to enable programme makers to create some of the UK's favourite programmes at Television Centre.  This includes thousands of episodes of Blue Peter,  a whopping 32 Children in Needs, 11 series of Strictly Come Dancing and multiple General Elections, as well as shows for other networks like ITV's Harry Hill's TV Burp, Channel 4's 10 O'Clock Live and Sky's Britain and Ireland's Next Top Model. In fact, even this week, as the lights are being switched off and furniture is being dragged out of the building, we're still here, making a new Channel 4 daytime show 5 Minutes to a Fortune.
I'm writing this post as some people think we're leaving Television Centre completely and I want to explain how the BBC and BBC Studios and Post Production will still be a part of this special building in the years ahead.
Television Centre in many ways epitomises the BBC's heritage and many of us grew up watching programmes like Playschool, Are You Being Served?, Morecambe and Wise and Live and Kicking. Throughout its life, innovation has been at the heart of the building, with its technical teams leading the way, from upgrading the studios to support colour television production in 1967, to wide screen TV in 1998, to HD in 2006 and even launching the UK's first 3D TV studio in 2010. All these marvellous moments don't happen without the skills of the technical innovators.
Of course, times and requirements change. Even though the BBC now makes programmes all over the UK, demand still continues in the South East. The closure of Television Centre certainly does not mean the end of studio production in London.
BBC Studios and Post Production, the BBC's commercial facilities arm, will be back operating studios at Television Centre in 2015. This includes the famous Studio One where big live event shows like Comic Relief, Later with Jools and The Voice were recorded. The much loved listed aspects of the buildings, including the doughnut and Helios Plaza will be retained and the building will look largely the same from Wood Lane once the redevelopment is complete.
In the meantime, BBC Studios and Post Production will be providing HD TV studios at BBC Elstree and Elstree Film Studios, including the legendary 15,000 sq ft George Lucas stage, where we'll be hosting this year's Strictly Come Dancing. The BBC One daily quiz-show Pointless started recording in the revamped Stage 8 at Elstree earlier this month and other shows such as CBBC's Friday Download and BBC Three's Live At The Electric will be recorded in the new Stage 9 soon. We'll also be hosting the seventh ambitious series of Sky1 HD's hit entertainment format A League of Their Own and ITV's The British Animal Honours 2013 at Elstree Studio D, which is comparable to Studio One in size.
Innovation will remain central to the future studios at Television Centre.  When we return in 2015, the studio galleries will be updated with the latest technology and we'll be investing in a fibre infrastructure for video transport and 10Gb ethernet as standard across all our areas for IPTV and streaming. We'll also have brand new dressing rooms, green rooms and production offices.
Excitingly, for the first time the Television Centre site will be open to the public. The master plan vision and outline proposals includes restaurants, shops, a hotel, flats and houses and offices and BBC Worldwide will also be making Television Centre their new headquarters. I believe the studios will add a real vibrancy and showbiz feel to the entire site and make it a brilliant place for audiences and visitors to come to.
We're totally committed to future television production at Television Centre and will continue to work with the BBC and with other media companies just as we do now. Whilst this week marks the end of one chapter of Television Centre, it is certainly not the end and we can't wait to be involved in the next phase of this unique building's life. 
Anna Mallett is CEO, BBC Studios and Post Production 
BBC Studios and Post Production is a commercial subsidiary of the BBC, offering TV studios in Elstree and Bristol, post production services in central London and digital media services in west London. More information on the work of BBC Studios and Post Production can be found on its dedicated website. 
Information on the future redevelopment and refurbishment of the W12 site is detailed on the Television Centre website.  
Explore the history of the iconic building on the History of the BBC website. 
Before the BBC vacated the Television Centre, staff featured in a special goodbye film paying homage to Roy Castle's classic record-breaking tap-dance routine. Watch it here.