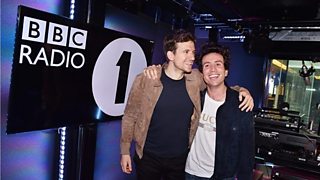 Greg James and Nick Grimshaw
Ofcom published a report last week about UK media consumption.
It tells a now familiar tale of the continued rise of on demand digital, especially among the young, accelerated by powerful internet companies.
If you take audiences as a whole most of their time spent watching and listening is to broadcast TV (71%) and live radio (75%).
For 15-24s the figures are 46% for TV and 36% for radio.
What should traditional broadcasters do to remain relevant to all audiences and especially younger ones?
Announcing the report, Ofcom Chief Exec Sharon White said UK broadcasters "have a history of adapting to change. By making the best British programmes and working together to reach people who are turning away from TV, our broadcasters can compete in the digital age."
That's true. The British creative industries need to collaborate to compete.
Netflix was described in the FT last week: "[Netflix] doesn't want to be a leader in video, or even the leader in video - it wants to monopolise the consumption of video; to become TV."
Monopolisation plays no part in the BBC's mission. We're proud that the iPlayer helped create the video-on-demand market - with space for other PSBs to have their own players.
We do want to serve everyone – the BBC is owned by all of us so we feel a moral duty to do that. A lot of that's about entertainment (which has always been part of our mission).
Radio One's Greg James and Grimmy hit the spot with their inspired game of hide and seek last week. As schools broke up it was an end of term prank that perfectly captured the mood of its audience.
But we're matching other teenage mindsets and needs in really distinctive ways too. We're commissioning a range of new content for 13-15 year olds which offers insights into teenage lives, gives them a platform to express their thoughts on sex education, relationships and parents.
We're expanding BBC Bitesize beyond exam revision into helping students with career orientation or emotional skills like resilience.
And we've launched BBC iReporter, an online interactive game to help young people in the UK identify 'fake news.'
That's how we can serve everyone without being a monopoly – by making a difference. A difference to your day – with that show or prank that makes your day. A difference to you as an individual, whether by helping you pass your exams or discovering a lifelong passion for classical music. Or a difference to society by combating fake news or disinformation.