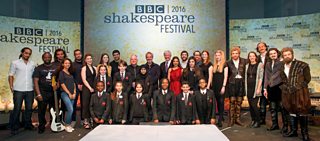 The BBC Shakespeare Festival - a celebration of Shakespeare's genius - was launched at a special event in Broadcasting House on Thursday 21 January 2016
A great teacher turned me onto the joys and fascination of Shakespeare and I am eternally grateful to her. Not everyone is so lucky.
Lots of people get put off early because it's something they 'should learn'. Yet if you ask audiences if they are interested in Shakespeare, many of them have a huge desire to explore the enduring magic of our greatest ever writer.
The 400th anniversary of Shakespeare's death gives us an opportunity not just to celebrate Shakespeare's work but to liberate it from something you 'should do'. We want Shakespeare to be as gripping, moving and powerful for modern audiences as it was for his contemporaries. And we want it to be fun.
From searching for the 'Best Bottoms in the Land', to new exciting drama commissions across TV and radio; from documentaries to an irreverent online game using Shakespearian quotes, our aim is to make Shakespeare simply irresistible.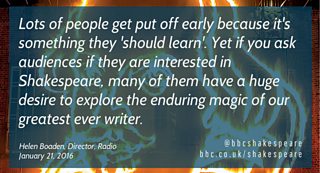 Our ambition is wide and deep. BBC Two for example, returns to The Hollow Crown with an extraordinary line-up of international talent including Benedict Cumberbatch and Judi Dench. A Midsummer Night's Dream receives two utterly different interpretations from Russell T Davies and CBeebies, both engaging their audiences with the power of Shakespeare's storytelling.
We will broadcast live from Stratford-upon-Avon over the Shakespeare anniversary weekend in April. BBC Radio 3 will take up residency at the RSC's brand new theatre and BBC Two broadcasts the RSC's Shakespeare Gala 'Shakespeare Live From the RSC!' with outstanding international talent including Dame Judi Dench, Ian McKellen, Joseph Fiennes, English National Opera and Birmingham Royal Ballet.
And we want this anniversary to reach out to every generation and all parts of the UK. So for example, in front of an audience of local children, BBC Learning, in partnership with the RSC, will broadcast Live Lessons from the Library of Birmingham to schools across the country.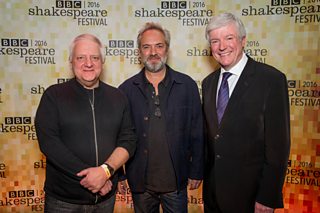 Actor Simon Russell-Beale and director Sam Mendes joined Tony Hall at the BBC Shakespeare Festival launch
BBC local radio will use their websites to document where and how Shakespeare's plays have been performed, starting in his own lifetime and marking the most iconic and unusual performances through the ages up to the present day.
We will bring Shakespeare into all four corners of the UK, including the BBC Scottish Symphony Orchestra, The Glasgow School of Art, the Royal Conservatoire of Scotland and the University of Glasgow who are coming together for the first time to create New Dreams, an ambitious, multi-arts experience spanning several months, combining performances, screenings, music and exhibitions, and involving hundreds of students, designers, and academics.
Partnership is key to making Shakespeare accessible to everyone and alongside the RSC, we are also working with The British Council to bring Shakespeare online to a global audience, and with other UK arts organisations on a multitude of different projects to bring Shakespeare to life for audiences both nationally and globally.
I cannot possible do credit to all we have on offer in one short blog post, and you can read all about it here.
Shakespeare may have died 400 years ago but his legacy is not just alive, it is thriving. All you have to do is try it ...
Helen Boaden is Director, BBC Radio