This week the Red Button showcases the superstars of folk music, while bringing you the live action from the Winter Olympics in Sochi, which millions of you have been tuning in to so far.
Radio 2 Folk Awards 2014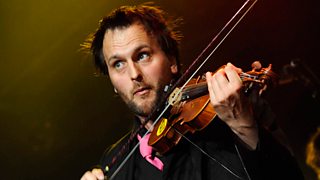 Bellowhead
Mark Radcliffe and Julie Fowlis present highlights of the 15th annual BBC Radio 2 Folk Awards at London's Royal Albert Hall, with live performances from New York singer-songwriter Suzanne Vega, folk big band Bellowhead (above) and lifetime contribution award recipient Martin Carthy with his daughter Eliza Carthy.
Wednesday 19 February 8pm-Thursday 20 February 7.45am
Winter Olympics: Week two
As Sochi 2014 enters its second and final week, in addition to our BBC Two coverage we'll continue to bring you the best live action and highlights of the Games on up to two Red Button streams, available via BT Vision, Freesat, Freeview, Sky, Virgin Media and YouView.
Six live streams and on-demand video of the action at Sochi will be available through the BBC's Connected Red Button service on Virgin Media TiVo and Sony Freeview Smart TVs, and via the BBC Sport app for connected TVs.
BBC Sport online can help you keep track of the full schedule of events at Sochi 2014 and you can get daily timings of live winter sports coverage on the Red Button here. Note that live sports times are subject to change. And if you aren't able to keep up with the day's action, don't miss the Red Button's highlights of the best of the day's sport each evening.
Don't forget to follow @BBCRedButton on Twitter for updates on all our services, and for help and information visit www.bbc.co.uk/redbutton
If you're experiencing any trouble receiving the extra Red Button stream during the Winter Olympics, please see this Help page with advice on retuning your set top box.