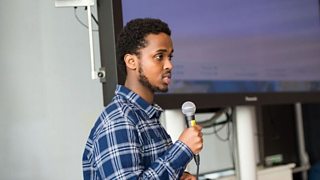 Duale Ali introducing his news story during a showcase event
Getting that call to say that my application to the Future Voices scheme had been successful was the best feeling ever. A wave of shock washed over me, followed by a shriek of excitement, as I kept saying thank you over and over again!
I had been following the @BBCGetin Twitter account for nearly a year before I saw the video for the scheme. I was transfixed as I knew it was the perfect role for someone like me, an aspiring bilingual journalist who wanted to work at the BBC. So, I applied there and then.
They say time flies when you're having fun, and this definitely rings true when I think of my time at the working at BBC World Service. I was excited for my first day but like anyone I was a little nervous. I needn't have been, because among five other 'future voices' all in the same boat, we instantly had each other's backs and have since become close friends.
We had an incredible two-week training session working with some of the BBC's best editors, producers, senior broadcast journalists, radio journalists and camera operators. We learnt the methods of radio, online reporting, writing for social media and TV and, my all-time favourite, creating a news story with an iPhone! I took all this knowledge I gained to my language service.
My destination was the Swahili service. Upon arrival I was immediately embraced with open arms, and settled in like family. From the moment I arrived I was eager to contribute: during our editorial meetings, I would suggest what news story should make the Dira Ya Dunia news programme.
After only a few days into my placement I was editing news packages, doing voiceovers and researching. I wasn't made to feel pressured and only took on as much work as I could handle, and of course was supported by my colleagues whenever I needed it.
During the next four weeks I moved to different departments within the World service, working in the African digital hub, Focus on Africa TV and Focus on Africa radio, which ended being a personal favourite of mine.
I was able to channel my inner radio personality, research, develop stories which were relevant to the audience, and book in interview guests; I felt like I'd found my true purpose. And that's the amazing thing about the Future Voices scheme, which every day brought on new activities, and I enjoyed the challenges.
The last task before the scheme ended was to create a news story or package, which we also had to film and edit ourselves. Everything we had learned was put to the test. This was then presented at a showcase event to our colleagues and BBC senior editors who came to support and congratulate us on our completion.
I feel like I learned a lot about myself in the process, if anything it has brought the best out of me. I'm not going to lie - it made me want to stay at the BBC forever.
To anyone thinking of applying, do it! It was one of the best decisions I made in life. I have no regrets whatsoever, it was all worth it. I have met some truly inspiring people on the journey who made my experience all the more special and I know we'll be friends for a long time.
Not only have I left with great memories, I left with invaluable skills only an organisation like the BBC could give me which includes an awareness of wide-ranging journalism covering all media practices.
Find out more about trainee schemes and apprenticeships at the BBC here.