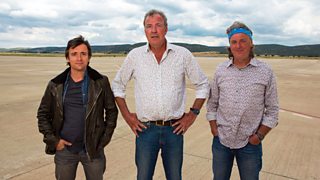 Richard Hammond, Jeremy Clarkson and James May
There's plenty to keep you amused this week on Red Button. We have live sporting action from the slopes to Smashing Pumpkins in the studio. Top Gear returns with a special preview of the new series and lots more. Press red and enjoy!
An Evening with Top Gear
Jeremy Clarkson, Richard Hammond and James May preview the forthcoming new series of Top Gear in front of a live and online global audience of fans at a special event in London.
Sun 18 January, 8.55pm-4am
Radio 2 In Concert - Ed Sheeran
Watch Ed Sheeran perform hits from his multiplatinum albums, + and X, with an audience at the intimate setting of the Radio Theatre.
Thu 22 January, 7.55pm-8am,
Fri 23 January, 12pm-8.55pm, 10.30pm-7am
6 Music In Concert: Smashing Pumpkins
The Smashing Pumpkins make their return, better than ever, featuring a brand new show recorded at Maida Vale studios. Billy Corgan talks candidly to Lauren Laverne about his approach to music and the media both today and in the past – interspersed with some classic archive performances.
Mon 19 January, 12pm-9.55pm, 10.30pm-6am
Tue 20 January, 6am-8am, 12pm-8.55pm, 9.30pm-6am
Wed 21 January, 6am-8am, 12pm-12.50pm, 5.20pm-7.55pm
Thu 22 January, 12.10am-8am, 12pm-4.50pm, 7pm-7.55pm
Winterwatch Unsprung
Nick Baker returns to share all the news, including viewers' best winter wildlife photographs and conversations with experts about how the local wildlife survives the long Scottish winters. Lindsey Chapman will have more stories from behind the scenes about how the show is made.
Mon 19 January, 9.55pm-10.30pm
Tue 20 January, 8.55pm-9.30pm
Wed 21 January, 8.55pm-9.30pm
Crimewatch: Wanted Faces
Crimewatch needs your help to track down wanted faces, your first chance to view and report people wanted by police before the main Crimewatch programme.
Wed 21 January, 7.55pm-8.55pm, 9.30pm-12.10am
Food and Drink with Tom Kerridge
Michelin starred chef Tom Kerridge shares his secret for making the perfect butternut squash risotto as part BBC Food's Dish Up Season, dedicated to helping us all get clever in the kitchen.
Fri 23 January, 8.55pm-10.30pm
Hugh Laurie's Blues Changes
Accompanied by his acclaimed Copper Bottom Band, Hugh Laurie examines the influence of the blues on the music that we listen to today.
Sat 17 January, 11.50pm-1.10am
Mon 19 January, 4am-7am
The Dumping Ground Extra
If you're a fan of The Dumping Ground, be sure to press red and catch The Dumping Ground Extra. Meet the new residents of Ashdene Ridge, catch up on all the behind the scenes gossip, and grab a sneaky peek of the new Dumping Ground app which launched this week.
Sat 17 January, 7am-9am, 12.30pm-2.30pm
Sun 18 January, 9am-10.50am, 4pm-5.55pm, 7pm-8.55pm
Mon 19 January, 7am-10am
Sport
BBC Sport heads to the ski resort of Cortina, Italy for the Alpine Skiing World Cup for the Women's Downhill competition. There is also live action of the Freestyle World Championships Snowboard Halfpipe. Scotland's Alex Marshall and Paul Foster reached the World Indoor Bowls pairs final and will hope to win their fourth title on Monday.
For full details of sports coverage on Red Button visit the BBC Sport website. Please note that live sports times are subject to change.
Follow @BBCRedButton on Twitter for updates on all our services.
For help and information visit www.bbc.co.uk/redbutton.