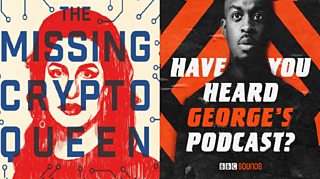 I loved listening to George's first series - he mopped up at last year's British Podcast Awards, and quite right too. Have You Heard George's Podcast pushed the limits of what a podcast is and what it can do.
Mixing styles and genres, it also gave a voice to the often voiceless. George has an original take on just about everything, including in that series rap, Ugandan politics, social media, creative risk-taking, education, solidarity, racism, social justice… and he has a lot of fun along the way. Listen - I'm sure you will too.
We wanted to give George the freedom to be even more ambitious and to reach even more people. So we're delighted to be working with him and the team on Series 2, which is available on BBC Sounds as of today.
I was delighted when I opened Sounds this morning. Because it's not just George's podcast, but also Tunnel 29, an extraordinary thriller-cum-history (heistory?), How Do You Cope?... With Elis And John podcast, the Grenfell Tower Inquiry podcast, Little Britain reforming to do Brexit and… the last episode of The Missing Cryptoqueen.
The Missing Cryptoqueen is a seminal investigation - one of those stories that makes you think differently about the world. It's another one that's half thriller, half investigation, unfolding in real time over the past two months. It's as engaging as it is important - I'm so impressed with the dedication and creativity of the team to have found this story and brought it to such a wide audience.
These programmes show one of the virtues of podcasts - that they allow us to tackle a wider range of stories, and do so in new ways, complementing what we do on the radio.
Last month the latest audience figures for radio listening in the UK revealed that 8.4 million people now listen to podcasts each week, up from 6m only a year ago. And nearly a quarter of young people now listen to them.
Podcasts have officially moved from being something a bit niche to a fully formed part of the audio family.
At BBC Radio, our goal is to keep live listening strong, with more than 33 million people each week tuning in at the moment, and to grow our own demand offering. This is where we are seeing some impressive numbers - with BBC Sounds now over 2.7m weekly users, which has been growing at about 100,000 a week, and above the average iPlayer Radio audiences before we launched Sounds.
We've had some standalone pod hits this autumn with the likes of The Missing Cryptoqueen busting more than 1m streams & downloads on Sounds and other platforms. And You're Dead To Me - which as the team say, is a history podcast for those who don't like history - now has more than 2 million streams and downloads.
These are completely new pods which now are attracting millions of hits. It's a huge achievement from the teams behind them, and alongside George the Poet's new series, it's good to have them as part of our brilliant audio offer on BBC Sounds.