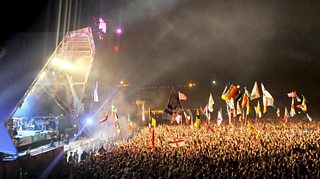 I'm pleased to let you know that we'll again be broadcasting a number of extra Red Button streams to provide additional coverage of Glastonbury and Wimbledon. Depending on the platform, we will broadcast up to six standard definition and one high definition streams. And even more coverage will be available on your TV screen if you can access our recently revamped internet-powered Red Button+ service. Plus, as always, all the coverage offered in Red Button+ will also be available on bbc.co.uk on PCs, mobiles and tablets.
The purpose of this blog is to let you know what we're doing on each platform and to explain what you will need to do in order to access the extra coverage.
Glastonbury on the Red Button
During Glastonbury there will be up to three broadcast streams, depending on how you receive your TV. A table of what's available on each platform and on which EPG numbers is shown below.
Unfortunately, there is no appropriate Freeview capacity available meaning we're unable to offer more than the one existing Red Button stream to viewers with SD-only equipment. However, we're pleased to be able to offer two extra Red Button streams to viewers with a Freeview HD TV or set-top box or a YouView set-top box. I should note that although a Freeview HD compatible receiver is required, these additional streams will be in SD.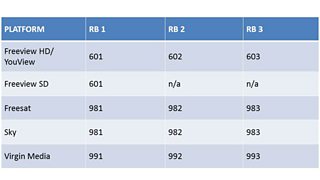 If you've got access to the BBC's Red Button+ application on your connected TV then after 9pm each evening during the festival, there will be six extra streams with live access from a range of stages. Our Red Button+ app is supported by Virgin TiVo and YouView devices as well as a growing range of Smart TVs once they've been connected to the internet. You can find out if your TV set can get our new Red Button+ service here. You'll also be able to access the live streams at bbc.co.uk/music via PCs, tablets and smartphones.
Wimbledon on the Red Button
No sooner than the campers at Glastonbury are packing up their tents on Monday morning, then the tennis at Wimbledon gets underway.
On the standard broadcast Red Button service on satellite and cable you'll find five additional streams in SD and one in HD.
As is the case for the Glastonbury streams, we don't have the capacity to offer additional streams to Freeview viewers with SD-only equipment. If you have a Freeview HD receiver or a YouView set-top box then you'll be able to receive two additional SD streams through the standard broadcast Red Button service.
Channel numbers are in the table below. Due to a shortage of SD channel numbers on Sky, we are unable to EPG list three of the streams. So, on the Sky platform, the content of these streams will only be accessible via Red Button.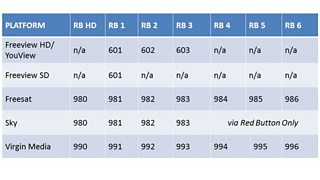 Even more tennis online and with Red Button+
In 2015, BBC Sport will deliver its biggest ever digital Wimbledon, enabling you to follow an unprecedented amount of action, whenever and wherever you want, with up to 15 live streams. Available online from bbc.co.uk/sport and through the BBC Sport apps for mobiles and tablets and on Red Button+ and the Sport App on connected TVs, you'll be able to access the most on-demand and interactive content for any Wimbledon to date, including:
Up to 15 live HD video streams – up from 12 last year, giving you even more choice during the busy early rounds


All the action wherever you are, on the devices you use –from BBC Sport's live coverage page, which will bring together the multi-court video player, text commentary and the best audience interaction in one place


Highlights and full-length replays of key matches – available on-demand to ensure audiences can catch up on the best of SW19
How to get the additional streams on your TV
If you have Freeview HD or YouView your receiver may well pick up the changes automatically but if not you will need to retune; Digital UK's TV retune website gives advice on how to do this. (If you're using a Freeview SD receiver, you should already be able to access our existing Red Button stream on channel 601 but if for some reason you don't then again a retune should solve this for you.)


If you have Sky, you should not have to do anything. If you do have a problem receiving any of our channels, you can try turning your Sky set top box off at the mains, waiting 30 seconds and turning it back on again. If that doesn't resolve your problem you can find more help at www.sky.com/helpcentre.


If you have Virgin Media the new streams should appear automatically. If you do have a problem receiving any of our channels, you can find more help at Virgin's website. For Virgin TiVo users the broadcast Red Button streams will be listed in the 980s whilst pressing red when you're watching on one of our TV channels will take you to the additional coverage on our BBC Red Button+ service.


If you have Freesat and you do not pick up the new channels automatically, you may need to put your digital box or TV into standby for 30 seconds and then switch it back on again. If the channels are still unavailable then carry out a Freesat channel retune. Full instructions can be found in the manual for your digital TV or box. Further help with retuning can be found at www.freesat.co.uk or by calling the Freesat customer support team on 08450 990 990. For those that need it, full DSAT transponder information can be found on our Reception Advice page.


Red Button+ is only available on certain platforms and smart TVs which also need to be internet-connected. You can find more details here.
Kieran Clifton is Director, BBC Distribution & Business Development