The Best Bottoms in the Land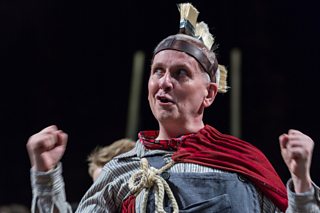 Chris Clarke playing Bottom in a performance of A Midsummer Night's Dream: A Play for the Nation, February 2016 (Credit: RSC)
Tonight (Friday 20 May) on BBC One English Regions and BBC One HD a new programme airs documenting the RSC's current tour of Midsummer Night's Dream featuring local amateur actors in the role of Bottom. Series producer Ed Barlow explains how the series came about.
What's unique about the RSC's ongoing tour is that in each theatre around the country, some of the key parts – including the famous role of Bottom – are being played by different, local, amateur actors, who are appearing on stage alongside the same cast of professionals.
For the lucky amateurs it's been an incredible opportunity. For the professionals and the RSC it's been a step into the unknown.
That's what appealed to us back in September 2014 when we approached the RSC about making these programmes. The tour fitted conveniently well around most of the BBC's English Regions and our proposal – to make a different programme about each venue and in particular the local amateurs – needed absolute buy-in from not just the RSC, but also all the theatres and actors around the UK. It also meant different BBC producers all over the country – most of whom I've still not met in person, despite having worked very closely with them for many months now.
In the words of Gregory Doran, the boss at the RSC and the man responsible for the recent Shakespeare Live show from Stratford, 'it's a mammoth, mammoth challenge'. He was talking about it from the RSC's point of view, but it hasn't been insubstantial from a BBC perspective either.
It began with a phone call to Erica Whyman, the RSC's deputy artistic director and the woman charged with the gargantuan task of directing a play with 14 different lead actors, 12 different venues and 84 amateur actors. She explained the premise of the production, in short to get Shakespeare out there and to involve as many people as possible. No coincidence that the production's officially called A Midsummer Night's Dream: A Play for the Nation.
I hope that through the programmes we've managed to convey a sense of that ethos, as well as the work that goes into staging a professional production. What's been lovely is that often we're able to tell this story through the wide-eyes of the amateur actors who have all approached this with wonder and awe. As one of them – an undertaker from the Black Country, incidentally – said: 'it's a bit like being in love – for a while you go about your every day business, and then suddenly it hits you and you realise something really special is happening to me'.
From a programme maker's point of view there have been anxious moments. The key to any successful story is conflict and jeopardy and at first it seemed we were going to struggle: everyone was having too good a time. It wasn't all plain sailing and over the course of the tour there have been missed cues, bruised egos, forgotten props and even broken bones. Pity the poor amateur actor in the North East who broke his leg just 48 hours before the play opened in the Newcastle: not the big break he was hoping for.
One thing that's been particularly satisfying is how well different departments across the BBC have collaborated.
Led from BBC Birmingham, it's one of the biggest commissions English Regions has ever had. Up and down the country, online and local radio has played a key part sharing and generating content, interviewing amateur and professional actors and creating a buzz. Have a look at this great digital short of the 'Brummie-Bottom' visiting a donkey sanctuary to get some inspiration.
BBC Arts has also produced a fantastic feature looking at some of the different actors who've played Bottom over the years and we've shared content with BBC Breakfast, The One Show and Blue Peter. It's been a truly pan-BBC production.
I'm quite proud of the title of this series – despite the Guardian calling it a 'rather laboured play on words' (they made it Pick of the Day though so I'll let them off). It even elicited a royal titter recently when I was fortunate enough to meet Prince Charles briefly in Stratford – immediately before he took to the stage himself. Puns are generally best avoided but in this production they've been nigh on impossible to resist. Over the past year or so I've probably heard all the Bottom related jokes there are. 'Come and see my Bottom', 'we've got Bottoms of all shapes and sizes', 'we've even got lady Bottoms', to list but a few.
Above all though, and I think all the BBC producers involved would agree, it's been a real privilege to be involved with #dream2016. It's also been a very successful partnership with the RSC, who took a huge gamble giving our cameras such free access in such an important year for them. With all the peripheral content the programmes have generated, this feels like the sort of series only the BBC can produce and I hope people enjoy them as much as we enjoyed making them.
Ed Barlow is Series Producer for 'The Best Bottoms in the Land'