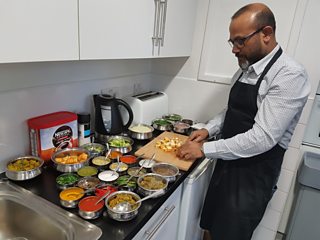 The Curry Show is broadcast live from the BBC Radio Leicester kitchen at 7pm on Mondays
Leicester – what springs to mind when you hear the name of our city? Premier League winners? Richard III? Curry?
Of course it's a curry capital, with more than 400 curry restaurants and takeaways and its own annual Leicester Curry Awards, but for some reason we hadn't capitalised on this on air.
When I first sold the idea to my team they were pretty sceptical. Is it too stereotypical for such a diverse city? Does cooking work on the radio? We came up with the idea of a radio mash-up of BBC One's Saturday Kitchen and ITV's Dinner Date. Great food and recipes, fun chat and a banging playlist – what's not to like?
We wanted to find new talent to present the show, and the exuberant Anand Bhatt certainly fits the bill. By day he's an amazing choreographer, and on Monday nights at 7pm he puts on his pinny and hosts The Curry Show. Our engineer worked his magic so that the show, which launched in March, is broadcast live from BBC Radio Leicester's kitchen.
Every Monday the air is rich with the scent of spice and the sizzle of cooking, and a local chef from one of the city's many curry houses shares a favourite recipe and cooks it up for two special guests.
The guests get to choose their playlist, fill up on the feast and share their stories. All sorts of folk get invited, from the local police chief to a beatboxer, and they all want to come again!
If we're lucky we get a spicy breakfast with the leftovers on Tuesday, but it usually gets scoffed by the guests as they enjoy their curry dinner with BBC Radio Leicester.
The Curry Show podcast is on the way next!
You can listen to recent episodes of The Curry Show on BBC iPlayer Radio here.