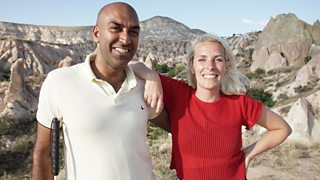 Crossing Divides is an ambitious season. Throughout the BBC in 2019 we are exploring the power and possibilities of encountering people with conflicting opinions, across divisions of race, class, faith, politics and generation.
We're tackling one of the biggest challenges of our age - polarisation and fragmentation - to support one of the BBC's public purposes, contributing to social cohesion.
Recently, I was in Coventry with the BBC local radio team, who brought together Faisal, who drives a black cab, and Uber driver Barry. Before they met, the two drivers spoke of anger and fear about their livelihoods, the future and each other. It was moving to witness the moment Barry and Faisal began to recognise the common humanity across the table. There were even tears and a hug as Faisal left to take his next fare.
How will it work?
Psychologists have long known we harbour a deep need to be understood. Once we feel acknowledged, we may be more willing to lower our defensive walls, even by an inch, creating the space for us to hear, perhaps for the first time, an alternative perspective.
Faisal and Barry's encounter for BBC Coventry & Warwickshire is part of a ground-breaking Crossing Divides project across all 39 BBC Local Radio stations. Each has identified three poignant and passionate local divisions, and will bring together individuals from either side. These 100-plus encounters will kick-start conversations and phone-ins across England.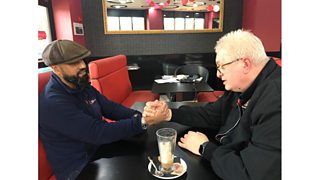 It's not just about talking
There are many ways to engage with people across the divide. Our Brazilian Service tells a story from the City of God, the violent Brazilian favela, where the very young and the very old lack affection and attention. They are crossing the generational divide by sharing capoeira lessons, acting classes, and hugs.
Our series on BBC Two, Pilgrimage, follows eight personalities with wildly different beliefs and faiths as they travel together on a demanding pilgrimage to see if they can understand each other better. BBC Monitoring discovers a dictionary enabling North and South Koreans to communicate, after decades of conflict caused their languages to grow apart.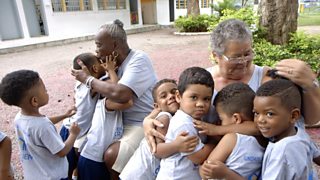 Credit: BBC
Solutions-focused journalism
Crossing Divides has grown out of the BBC News Solutions-focused journalism project. Alongside reporting problems, journalists are encouraged to explore solutions - looking at limitations, seeing whether a solution can scale, and asking rigorous questions.
Crossing Divides isn't all hugs and love-ins. We don't expect people with vastly different outlooks to agree, or even get on. When they don't, we tell that story too, like the encounter between an anti-fascist activist from Portland, Oregon, and a member of the all-male far right Proud Boys group. The men agree to sit across a table for an Our World Crossing Divides documentary, and there's a tangible sense of danger, fury and contempt.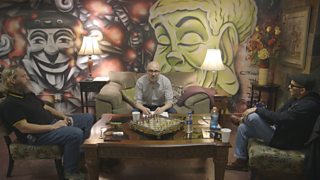 BBC's Mike Wendling (centre) sits down with a Proud Boy (on the left) and an anti-facist activist. Credit: BBC.
Our Stories
We were encouraged to create this season across the BBC after the success of our week-long News pilot in 2018. Our Stories attracted more than 5m page views, and in excess of 300,000 comments, shares and likes on social media.
We broadcast the moving tale of Indonesian ex-child soldiers on opposite sides of a bloody conflict. Ronald Regang, a Christian, and Iskander Slameth, a Muslim, met after the end of the conflict at a trauma healing centre for child soldiers .
Once sent out to mutilate and murder others of a different faith, today they help keep a fragile peace on their island, Ambon. Following the BBC report, the two friends became national heroes, and a larger-than-life mural of the pair appeared in Ambon City, inspiring the community.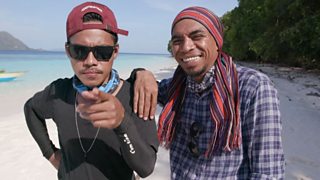 Ronald Regang and Iskander Slameth
Crossing Divides aims to spark a huge amount of conversations across divides. BBC News Labs and BBC World Service build on a successful pilot to create an interactive comic in which you can have a conversation with a virtual character who has different ideas about controversial topics such as Brexit, immigration or gun control.
One of the challenges of Crossing Divides is finding ways to help individuals and communities who share common spaces but rarely interact. We're partnering with public transport companies across the UK for a Crossing Divides on the Move day in the summer, encouraging passengers to have conversations with strangers. Meanwhile, our BBC Radio 5 Live and BBC News Common Ground project will pair up thousands of people with opposing political perspectives for face-to-face conversations.
We're not endorsing particular solutions to fragmentation or implying that power relations can be equalised through an encounter. The ambition is to create more understanding. For each one of us, exposing ourselves to ideas which may challenge our core beliefs and the sense of who we are can feel like a risky endeavour - especially if we feel our community is under threat. But in doing so, we may discover our identities are more complex than we thought, with contradictions previously kept hidden, even from ourselves. We may realise we share beliefs, experiences and even values with enemies we feared or strangers we dismissed.
For this season, we have drawn on the work of Miles Hewstone, Julie Van de Vyvert, Libby Drury, the Behavioural Insights Team, British Future, More in Common, Conciliation Resources Jonathan Haidt as well as the Hedrodox Academy, Douglas Stone, Amanda Ripley, Solutions Journalism Network and Better Angels, who have a track record in negotiating successful conversations between Republicans and Democrats.