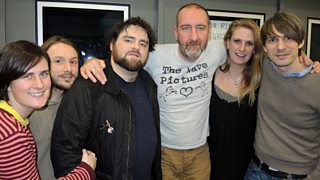 Chris T-T and The Hoodrats join Marc Riley for a live session.
Earlier this month About the BBC's Jen Macro kicked off a short 'Chris T-T & The Hoodrats' tour with a live session on Marc Riley's 6Music show in Manchester and took the opportunity to compare the experience with previous sessions she had taken part in at the old studio which was located in Oxford Road.
As BBC 6Music DJ Marc Riley greets us in the reception area of the studio at Dock House in Salford Quays, one thing is made predominantly clear - under no circumstances is anyone to let slip the result of the Manchester City/West Ham match being played that night as he intends to watch it when he gets home. That important issue dealt with, we are free to carry on sound checking for our live session with him, and recording a track for Gideon Coe's show which follows at 9pm.
This is my fourth session on Marc Riley's show, and my second as part of Chris T-T's band, however it is my first experience of being in the studio since it moved from the old location in Oxford Road over two years ago. It's very different. Apart from being much easier to find and more accessible, loading our equipment into the studio was a breeze – straight through a huge hangar type room, through a couple of doors and in - compared with the two flights of stairs and narrow, angular corridors of the show's previous home.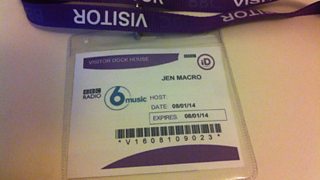 The personnel are still as friendly though, thankfully, from sound engineers Chris and Helen, to the security guards, to Michelle Choudhry who has been producing the programme since Marc started at the station, in fact they will be celebrating 10 years since their first broadcast in April this year. Amongst other things, Michelle is responsible for, "liaising with radio pluggers and sending out forms to ensure bands arrive on time and fully prepared" so the rush-hour-traffic-avoiding route we took to get to Media City was down to her. She also explains that as producer she is, "totally responsible for what goes out on air, any swearing in songs/any swearing by bands/misread emails/or inappropriate comments by DJs or a guest on the show …. It's all down to me".  Good to know as Chris T-T practices omitting the profanities from the songs we're performing.
"My favourite part of the job is welcoming and sorting the bands out for their live sessions. I just love it," says Michelle, and it comes across. We are put totally at ease. I find it quite nerve-wracking playing live on the radio, there isn't the liberating transient nature of a gig, because you're aware of it being recorded, but, unlike other recording situations, there isn't the chance to redo things if you make a mistake. Nevertheless, the anxiety dreams I had had the night before soon become a distant memory, thanks to the positivity of the team.  
It's also encouraging to know that you're on the show because Mr Riley wants you to be there, as Michelle explains, all of the bands on the show are invited by him to attend: "Marc decides who he'd like to have in session, same with the music we play, Marc ultimately decides, but the production team offer up suggestions. Bands tend not to ask directly, it's usually their radio plugger who asks if we'd like the band, or mainly we approach bands after Marc's heard or seen a band somewhere". The programme is on air four evenings a week, and almost every show features a live band. I feel privileged to be joining a list of guests that includes Laura Marling, Wire, Joan As Policewoman, Field Music, Sebadoh… I could go on. I won't. You can see for yourself who's been on.
Michelle admits that she misses nothing about the old site. "I really have never looked back to Oxford Road with any regret, from the first show [in Salford] it was YES – LOVE IT. We have more space, newer equipment, there are more people buzzing around and lots more happening, just generally a nicer, cleaner working environment. Artists seem a lot more relaxed visiting Media City too". I have to agree, it's a more welcoming environment and the increased space is a bonus, as unlike some other full band sessions I've played, rather than being separated by a soundproof window,  the band are in the same room as the DJ (which was also the case at Oxford Road, but it was a smaller space). I think this allows for a more spontaneous, personal performance, especially when you can see said DJ air-drumming to your song. The sound equipment has gone up a gear too, the headphone monitors are really clear and have more channels, so it's much easier to make your own mix of what you hear when playing. Plus the guitar amp I 'broke' (I didn't touch it, honest) last time I was in with Chris in 2008 seems to have been fixed/replaced.
A number of shows on 6music are broadcast from the Dock House studio, so there is a lot of to-ing and fro-ing between London and Salford. Marc's show follows Steve Lamacq who broadcasts from Western House in London: "We need to make sure we get on air on time, so there are no horrid gaps at the exchanges of shows, which means making sure the desk is all set up right, liaising with London control room to make sure all the lines are booked and the studios are talking to each other," says Michelle, "it's all very smooth, we make sure we've heard each other/send tone and done all our pre show checks at least 15 minutes before the changeover".
Sometimes if the bands tour schedule means they can't get to Manchester, or other circumstances require it, there will be an audio link to a studio in London, such as when the BBC Radiophonic Workshop performed their recent session from Maida Vale. "It is different when you can't see the band, you do get a different dynamic but Marc tends to be able to make the bands laugh and get the most out of them wherever they are".  Being fans of the show, and having huge respect for what he does, speaking to Marc in person was our incentive to drive up to Salford, rather than do the session in London, even though the routing was, shall we say, questionable.
So, at 20 minute intervals, we pile in to the studio, have a chat and play a song. We're all done and packed up by 9pm. Buoyed by the experience, we load up the van and embark upon the 250mile trip to Exeter (I did say the routing was questionable) for our first gig of the tour. Switching on the radio, we inadvertently catch the result of the match, 6-0 to Manchester City … but don't tell Marc.
Jen Macro is Digital Content Producer for About the BBC Website and Blog.