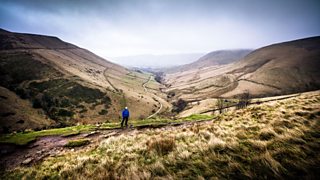 Paul Rose on the Pennine Way
Director of England Peter Salmon, highlights what the BBC will be doing in the north of England in 2015.
It may not get so many people out of bed, but soon the BBC will have delivered £1.5 billion in efficiencies, quite a bit of it driven by our property push out of London. All the more reason to crack on with our work in the North of England, raising our ambitions further.
Take this week's news that Britain's most popular digital radio station, BBC Radio 6 Music is decanting to Tyneside for its annual festival, featuring rock bands like Mogwai and Royal Blood, The Fall and Maximo Park plus local legend Brian Ferry in conversation. It's a showcase for home-grown and international talent, much like the North East drama teams behind BBC Children's big hits The Dumping Ground and Wolfblood or new series Hattie's War and World's End, the latter making spectacular use of Northumberland's beautiful Bamburgh Castle.
Newer north east talent like Elliot Kerrigan are getting their breaks this spring with Boy Meets Girl, BBC Two's newest sitcom series, written and created by Elliot, being shot in east Manchester's new Space studios and on location in Newcastle about an unlikely but poignant romance. Next month on BBC Radio 4 it's series three of Home Front, ground-breaking First World War radio drama set in Tynemouth and North Shields, whose 40 episodes will feature many brilliant NE actors. Around Easter it's Inspector George Gently's turn, when Martin Shaw's Sixties cop show from Durham returns to BBC One for another series. The North East is really rocking.
Salford itself is working hard to become the hub for the whole region that we promised it could be. This year Salford staff numbers will pass the 3,000 mark with the arrival of BBC charity Children In Need and fresh technologists for our Future Media department, the people behind BBC iPlayer, a device that notched up a record-breaking 3.5 billion viewing and listening requests last year.
Our Salford based teams cover the region, the UK and the world, so it's not surprising the NAO recently reported they could only count 1,600 of us actually working on site one day (when we were still a smaller compliment of 2,300). Some of us in Salford work from our desks, others are out covering sports events from Rio to Wimbledon or news reporting from Paris to the Middle East, or making cracking programmes from Hull to Carlisle.
In 2014 drama exploded across the North, with strong shows for adults and kids alike. 2015 looks like building on that. If you need proof that British fiction feeds the economy as well as the soul, look no further than Screen Yorkshire's recent report that its support for film-makers – linked to the launch of their BBC Film Testament of Youth – had generated more than £20m for the county's economy; see the Radio Times' travel feature linked to locations used in filming BBC One's Last Tango in Halifax; or simply go along to the Bradford Film Summit at the start of March, which the BBC aims to cover as widely with the likes of Radio 5 live and CBBC, aimed at boosting the North of England's burgeoning movie sector. Many of the best dramas in peak time and daytime in recent times – from Happy Valley to Michael Palin's Remember Me, Kay Mellor's hit The Syndicate to Jimmy McGovern's Common, David Morrissey's The Driver to Liverpool LA Productions' Moving On were all made by teams up here plus kids' favourites Rockets Island, Hank Zipzer and new Bury comedy So Awkward. That's an outstanding drama roster powered by the BBC licence fee and rich in Northern talent, locations and stories.
So what's around the corner, beyond the dark northern winter? Beyond Bolton marvel Peter Kay's marathon run of fund-raising comedy nights in Manchester ahead of Comic Relief on the BBC in March? Beyond our CBeebies Elves and The Shoemaker ballet partnership with Northern Ballet in Leeds?
The General Election is number one for our BBC Breakfast, Radio 5 live, regional, local and CBBC Newsround teams, many of them covering key marginals throughout the North in one of the most closely fought and dramatic political contests in years. But there's entertainment, music, arts, factual and sport to come too.
The early summer looks massive in particular – the Yorkshire team (who were behind last year's stunning tribute to York Minster) are marking the 50th anniversary of the Pennine Way with a four-part series for BBC Two that pays homage to the legendary Pennine route; in Liverpool we want to get behind the city's big welcome for The Three Queens, those great cruise liners that will come together to celebrate Cunard's 175th anniversary in the city; over in Sheffield there are a major events planned to support the Snooker World Championship, 30 years after Dennis Taylor's famous battle with Steve Davis; in Trafford, Greater Manchester, it's the culmination of our People's Cup Final, linked to the BBC's FA Cup coverage – the climax of 100,000 footballers playing five-a-side matches from women to veterans to families, who then get the chance to go to Wembley for this season's final – which sadly won't feature Burnley FC.
By the time we get deeper into the summer the world-renowned Manchester International Festival will be upon us, the city hosting CBeebies' icon Justin Fletcher with The Story of Mr Tumble; BBC and Manchester University scientist Brian Cox hoping to deliver an innovative Age of Starlight; plus new Damon Albarn musical wonder.land, among the many treats, collaborations and surprises to mark MiF's 10th birthday.
Television, radio and online – the new rock and roll? I like to think so.
Peter Salmon is Director, England