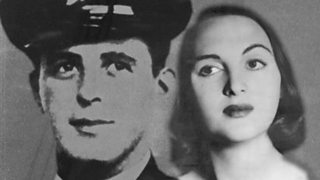 There are seldom times when an idea for a story and a suitable anniversary coincide, but this was one of those very rare occasions where the stars appeared to have aligned in my favour.
Last year I was starting work on a proposal for a 60th anniversary celebration of the Carry On films. I had come into possession of what I had excitedly confirmed as the last-ever interview with the much-loved star Sid James, recorded just before his sad passing on stage in 1976. The recording hasn't been heard since then and to bolster my knowledge of James I decided to read some books on his life. I came across one publication that mentioned a fascinating story about a young actress who disappeared while travelled on a cruise ship from Capetown to Southampton. A deck steward was arrested, charged and found guilty of her murder, with the jury sending him to the gallows after only 45 minutes of deliberation. According to this sole author, James was supposedly involved in the matter as he had a romantic connection to the victim. However, I have since been able to completely debunk any involvement from James, but the story caught my imagination.
It has everything you'd expect to find in an Agatha Christie novel. A young actress, a dashing steward, romance and a suspicious death on the high seas. Also, the precise 70thanniversary of both the crime and the trial was coming up. I started some basic research and was incredibly fortunate to meet two individuals who became an integral part of what was to be a very ambitious multi-platform project.
Antony M Brown is a Hampshire author with a very unique set of books published under his 'Cold Case Jury' series. A chance for readers to learn about the whole case and then go online and publish their own verdict and debate it with other readers. It happened that when I called Antony he was also preparing his latest book in the series, based upon this very case. Through Antony I got to meet the very engaging and talented Paul Stickler. Paul is a former Police Chief and now publishes his own books on crime, while also giving fascinating talks and holding a key role at the Hampshire Police History Society. Paul had the remarkable fortune and foresight to be offered and therefore save the entire official police file for the whole investigation – moments before it was going to be incinerated.
This quickly became a remarkable project. It was the first time a broadcaster had access to the actual files that had never been seen publicly before, in a very famous British criminal investigation. This story was once published alongside those of Dr Crippin, Guy Fawkes and Oscar Wilde in the illustrious 'Notable British Trials' series, and perhaps most crucially there is still a debate on whether the defendant was indeed guilty.
So, did James Camb really murder Gay Gibson? Camb alleged in his defence that Gibson died in front of him during sexual intercourse and he then panicked and pushed her through the porthole in her room, out into the sea. The fact he disposed of Gibson's body in such a callous manner, doesn't mean Camb was guilty of murder if she had died as he described. In my documentary, I share material that the jury never saw in 1948. There is a personal testimony from a lady who was in court and at one point was even pushed through a mocked-up porthole, like the victim Gay Gibson, which was displayed as part of a reconstruction of the cabin room. We shed light on previously unseen evidence, handed to police after the trial ended that reinforces the defendant's story. There is also the first broadcast interview with a key witness for the defence, who expresses her regret at not taking part in the trial, stating: "I could have saved his life". It's a wealth of strong material - enough to engage anyone into having a view on the outcome of the court proceedings, which saw James Camb sentenced to hang.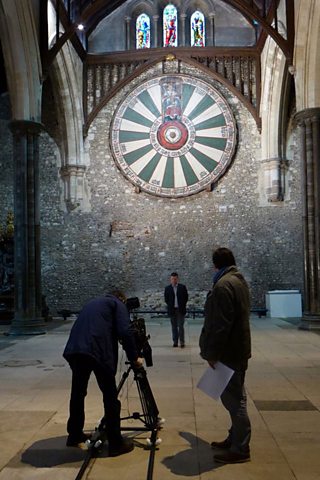 Through a variety of freshly gathered assets I was able to begin the journey from Duncan Dock at Capetown and track every step of the voyage to The Great Hall in Winchester, where the dramatic trial took place and gathered global attention. We have even managed to recreate specific elements of the trial using the official court transcript and professional voices.
Sometimes regional television is maligned with associations of parish-pump stories of jam festivals, UFO spotters and dancing dogs. However, with the support and backing of many talented BBC South colleagues I am incredibly proud to dispel this illusion, with the depth and creative treatment of the half-hour of television we have produced. The programme has been described by one senior manager as an "intelligent, highly produced and gripping documentary". It is occupying an impressive amount of output on national and international BBC platforms across radio, television and online. If you catch it… maybe you can solve the porthole mystery?
Richard Latto is Multimedia Producer & Presenter, BBC South
The Porthole Mystery is on BBC News Channel at the following times:
Friday 23 March, 21.30
Saturday 24 March 13.30, 20.30
Sunday 25 March 00.30, 10.30
Friday 30 March 14.30.