BBC Creative Access: first hand accounts from trainees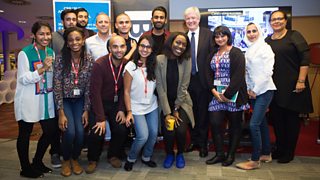 DG Tony Hall and Acting Director BBC TV Mark Linsey with the BBC Creative Access Graduates
In June 2014 the Director General announced that the BBC would take on 20 graduate trainee interns from the successful Creative Access programme as part of ambitious plans to address the on and off-screen representation of Black, Asian and minority ethnic (BAME) communities. We took on more than 30. Of the 20 who have completed the scheme so far, 70% have gained further employment at the BBC. Here are some of their stories:
Sabbiyah Pervez:
When I first saw the advert for the traineeship my immediate thought was this can't be real: training at the BBC, during the General Election and it's paid!
My first year at the BBC has been a whirlwind, which is ironic given that I never imagined that I would be a part of this institution. It wasn't because I didn't think I was capable but because I didn't think I could fit in with the BBC culture. What is that culture? I guess before I joined the BBC I thought everyone had to be the same rigid individual with little creativity or opportunity to be creative. I was wrong. In the past year I have trained on some of the biggest stories in my region, Yorkshire, whether that was grooming, terrorism, school stabbings, the General Election or refugees. I have realised that being myself and I guess more importantly being allowed to be myself has opened up roads to people who would otherwise not engage with the BBC or media in general.
And this is something I am incredibly passionate about, hearing from the grass roots, what do I mean by that? The people who are affected by the news and who have incredible stories to tell.
Radio 4 approached me last week, they wanted me to take part in a panel discussion asking whether the Paris attacks could happen here. The discussion first aired on Thursday evening and because of the response it was replayed on Sunday evening also. One listener emailed Edward Stourton directly saying he thought the discussion: "may have been the most important programme broadcast by Radio 4 this year. Those young Muslim journalists were just so smart and had more insight than I have heard from the mouths of any number of politicians." There was also fantastic feedback from friends and colleagues.
More than anything in this year I have learnt that the term 'journalist' means nothing. Journalists are mere portals through which the public can tell their stories, air their grievances and have their questions answered. The value of my work in future will depend on how effectively I have engaged the audience.
Lara Owen:
There is nothing quite like the buzz of a busy newsroom or the satisfaction when a news story you have found makes it on air. My placement at BBC Inside Out West Midlands and Midlands Today has been really positive for my career in journalism and allowed me to use my editing, writing and filming skills in a busy news patch. After my master's degree in Broadcast Journalism I was keen to get more experience in television and the Creative Access placement provided the opportunity to learn skills on the job, whilst also being part of a supportive community of other interns.
I've been lucky enough be trained as one of the producers for our regional debate programmes, interview Politicians in the run up to the Election and also research full time on Inside Out. Just to give a flavour, there's been everything from EU Migration where we followed a Romanian family in their first few weeks of living in the Midlands, to our Train Waste film where me and producer Jonathon Gibson found out what goes on the tracks is a public health hazard the hard way, that's right we picked up the samples ourselves.
My top tip to the new cohort of trainees is that it's important to be a team player and not be afraid to muck in. I landed myself the task of translating for a Chinese media delegation on their tour of the BBC and when the first direct flight from China landed at Birmingham airport. It's just about seeing every experience as a chance to grow and learn and find new stories. I now have a staff position with BBC Midlands Today.
Hannah Ajala:
The 12 months I was fortunate enough to spend as a trainee at BBC Radio 2 were phenomenal. I'd never set foot into a studio, let alone worked with such well respected and popular presenters. I learned the ins and outs, and was also fortunate enough to step into the newsroom at the BBC. I decided to grab each and every opportunity that came my way, knowing that I planned to make the most out of it, grow from it, and stay in it.
I realise that my love for broadcasting is something that has led me not only into radio, but online and on TV. After successfully completing the 12 months, I am now a Researcher at BBC TV and would just advise anyone out there to always believe in your brand, connect with people of interest, and keep growing... it'll pay off.
Arran Shargall:
The experience and knowledge I've gained during my internship at Holby City has been truly priceless. This has only been made possible thanks to the opportunities and support of Creative Access, BBC Academy and the Holby City Line Producer - Lynn Grant, and my mentor, the Series Producer - Simon Harper.
Being a television graduate, I found it incredibly important to learn as many aspects of creating television as possible. The way Lynn catered the internship around my interests, allowing me to rotate through Script, Story, Research, Production Management, Camera and Post-Production, allowed me to gain a full understanding of how an idea evolves all the way in to an episode of Holby City.
Holby allowed me to be confident, creative and gain as much as I was willing to put in. What made my internship especially unique was the family-feel that transpired around the whole building. I think nowadays there's more pressure and less opportunities for young people. However, I'm a firm believer that if you work hard enough towards something, you'll get the opportunity. And actually what I think more young people should be doing is maximizing every opportunity they're given, whilst also appreciating how privileged we are as young people.
Mujina Kaindama:
I started off the year at Sunday Politics South where I trained as a Researcher. Moving out of London for this opportunity I discovered that the regions have a lot to offer. The General Election was an exciting time as we hosted live hustings debates around the country. The show helped bring the politicians to the public and what followed were some tough questions - politicians kept getting caught out by the question: what is the living wage outside of London? I also had some unexpected tasks – most memorably during our live Worthing broadcast I played bouncer literally blocking the door to a group of Green party protesters.
I started the summer in BBC Radio Berkshire having first helped produce some breakfast show outside broadcasts on the Queen's Longest Reign and commemorating Fred Potts, Reading's only Victoria Cross winner, I'm now Assistant Producer and sometimes reporter on the Bridgitte Tetteh Show helping cover news that affects the African-Caribbean community in Berkshire.
I'm still perfecting the art of persuasion but I've learnt if you don't look up and ask you simply won't get.
Ashley John-Baptiste:
I found out about the traineeship through someone who works in BBC current affairs. I had worked with this person on a previous project, and she suggested that the internship would be a good fit for me.
Honestly, I really hadn't considered the BBC before that. I had never heard of the Journalism Trainee Scheme and at university career fairs I was only ever hounded by law, banking and consultancy firms (which was pretty soul destroying for me as a creative). Back then, the BBC seemed an impenetrable monolith. I never thought that I'd have a chance of working here in journalism.
As an intern, I started off as a trainee broadcast assistant on the news channel – helping with the flow of stories by researching and booking good guests. Soon after, I was invited to be a part of the Victoria Derbyshire launch team... I had no idea what to expect.
Seven months on, I have been employed as a researcher/reporter. I feel I am an integral part of the Derbyshire team, often helping with next day planning. More than this, I have also been privileged to be able to originate my own stories and even report them.
The Creative Access traineeship has been phenomenal and has landed me a true opportunity of a lifetime.