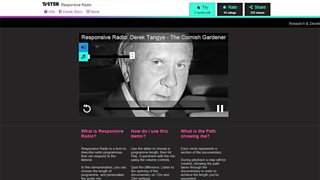 Reponsive Radio on BBC Taster
Over on the BBC R&D blog Senior Engineer Matt Brooks introduces a new experiment in listener-controlled radio programmes: Responsive Radio. You can try it out on the BBC Taster website. Matt writes:
Responsive Radio is a radio documentary with one big difference: you can listen to the complete story at a length that you choose. Whether that's 12 minutes, 24 minutes, or 15 minutes and 37 seconds precisely, Responsive Radio tells you the same story, altering the amount of detail it gives you to fit in with the time you have to listen. This is made possible with a new approach to media production and delivery, which we call object-based broadcasting (OBB).
You can read the rest of Matt's post on the BBC R&D website.