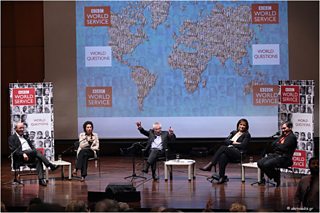 The idea of adapting Any Questions for an international radio audience is one of those proposals that seems like a natural concept. Why not record a public debate – in English, led entirely by audience questions – from a city somewhere on the planet, to the rest of the world?
The first programme was in Brussels, at the Royal Library of Belgium - and it was a baptism of fire. Four days before our planned debate, with tickets out to an audience of 400 and a panel including the Vice President of the European Commission confirmed, the Paris Attacks happened. Ten jihadi bombers and gunmen took arms against Parisians relaxing on an autumn evening, and appallingly, left 130 dead.
The horror of the attacks brought the ambition of World Questions into sharp focus. There were armed men on the run in Brussels, could we really carry on? If we did, would our panel and audience show up? I had expert advice and excellent support from within the BBC at all levels, and our presenter Jonathan Dimbleby and the entire panel were determined to make it happen. In that moment, we felt that openness and free expression was under threat. We had specialist guidance from a range of sources, made painstakingly detailed security plans, and the debate went ahead to a full house without incident.
Since that debate in November 2015, our team has staged nearly 30 editions in cities from Beirut, Belgrade and Bogota to Washington, Warsaw, Moscow, Hong Kong and a great many other places too. Security always comes before anything else, but to date the worst thing we have had to experience in any of our debates is a poking incident in Warsaw. An elderly woman took exception to what a man was saying in the row in front of her, and poked him repeatedly with her finger. Jonathan intervened, briefly stopping the show in one of the lighter moments of a poisonously painful debate. We covered abortion rights, independence of the judiciary and, of course, immigration, which exposed the harsh divides in Polish society. In fact, though we have debated politics in almost every continent, my impression is that it is Eastern Europe where bitterness rises most quickly to the surface, some people fear that the democratic rights they have held for only a few decades are starting to slip away.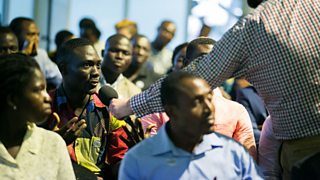 Our debates are driven by our audiences. Their approval, disapproval, laughter and heckling colours our programmes, with a sense of place and the people who live there. We go out to the audience regularly for their opinion on the subjects we tackle, which can be exciting but comes with its own dangers. In Hong Kong we worried that our audience could criminalise themselves by arguing for independence, in Moscow my colleague Helen Towner found audience members suggested good questions for the panel but were wary of sharing their points of view. Often things completely take off: in Ghana somebody asked 'Is cooking slavery?', the phrase had kicked-off a feminist debate that had been raging locally in recent weeks. Every point made was accompanied by oohs, aahs, tuts or murmurs. In some parts of the world audiences use genuine laughter to express disbelief in what has just been said. In other places the panel heckles the audience!
In many cases the fact that we are there makes News. In countries like Latvia, we made the daily news bulletins before the show had even begun. In Athens seven TV cameras set up at the back of the theatre. In Seoul, at the time of the Trump/Kim summit, we had six news crews in the room.
World Questions is put on in partnership with the British Council, the UK's international organisation for cultural relations. They support our commitment to freedom of speech, and have on-the-ground expertise in many of the places we want to put on our debates. Although we make the editorial choices, their knowledge and practical support is a huge help. Steve Titherington commissions the series for BBC World Service English Radio and the aim has always been for us to make debate possible whatever the challenges. And those challenges on free and open debate are real still around the world.
Helen Towner has produced a programme collecting some of the key moments from our series so far. It shows what a great radio adventure World Questions is. In that first debate in Brussels, there was a bond between the audience, the presenter and the panel – we felt that we were doing something important at a key moment in history. We feel that compact with the audience again and again, they make the programme as much as us and I think you can hear the commitment all over the world. In Harare, capital of Zimbabwe, one member of the audience told Helen that she had walked for several hours just to experience participation in a free and open debate. People often come to World Questions with excitement and expectation, and there is a special humility in producing a programme where democracy is cherished by the people who take part.
World Questions: Highlights airs Sunday 19 August, 2pm on BBC World Service and available online after that
Charlie Taylor is Series Producer, BBC World Questions