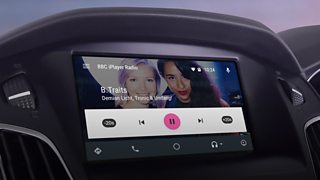 It's RAJAR week - that's when the Radio Joint Audience Research group publishes UK radio listening figures for the previous quarter, in Thursday's case January-March.
The media tends to pick up on the performance of breakfast shows because they command the largest audiences on linear radio. In fact linear audiences are so big that marginal percentage changes translate into large numbers and that makes good copy.
The real story this week may be different, as it's likely that this will be the first time digital listening overtakes analogue. This will trigger a Government review on whether to switch off the FM signal in the UK.
The BBC has played an important part in the success of the growth of DAB (Digital Audio Broadcasting) by launching digital only stations like 5Live Sports Extra; BBC 6Music and BBC Radio 4 Extra.
We're fully committed to digital, and growing its audiences, but, along with other broadcasters, we've already said that it would be premature to switch off FM.
RAJAR publish another quarterly piece of research called MIDAS, less widely reported, about the different ways people are listening recorded over a week.
The most recent edition of that research finds that 15 percent of all listening is on phones and for younger listeners that rises to 33 percent.
The lion's share of digital listening remains live radio - 70 percent - but again, for younger audiences that drops to 40 percent.
Podcast listening is up a third across all audiences since the same time last year, accounting now for 40,000 hours a week - our new podcast commissioner Jason Phipps will be pleased about that.
The BBC's mission is democratic – to bring the best to everyone. You fund us to be a positive force in society. To do that, we need to reach everyone. That's not about chasing ratings or fighting over share. It's about finding new ways to be that positive force and making sure we remain universal.
The BBC constantly needs to modernise. That's why we're making more of our content available on demand and investing in podcasts and later this year we'll be making further changes to our app and website to make it easier for audiences of all ages to enjoy the full range of our audio how and when they want. It's why we are taking part in the government's trials of 5G technology, and why we will continue to look at ways that digital technology, from DAB services to IP, can help us make great radio.