A creative theme has emerged from this week's Ten Things: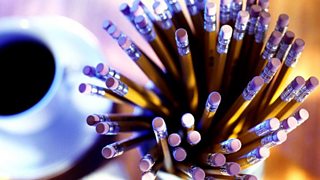 1. Radio 2's 500 words short story competition is back,budding writers aged 13 or under ne ed to get their submissions in by 22 February. There's also a resource pack available on the site, as well a video with tips to inspire you.
2. There's also a post on the TV Blog by writer Bob Kushel about how to write highly-charged comedy.
3. Elsewhere, the Trans Comedy Award is open for submissions from writers with ideas for original comedy sitcoms, comedy dramas or sketch shows featuring transgender characters and/or themes and written for television. The winner will be awarded £5,000 to develop their concept. 
4. Those moved to enter any writing competition can find further inspiration can from the World Service website, an old but lovely page entitled How to write. 
5. The World Service Writer in Residence blog is always worth keeping an eye on, current post-holder Uzbek novelist and poet Hamid Ismailov's Friday missives always help me end the week on a thoughtful note.
6. Ariel reports on Radio 4 controller Gwyneth Williams' search for the network's first Writer in Residence.
7. The BBC News Magazine Monitor blog always raises a smile on a grey day, particularly the Your Letters contributions from readers.
8. Over on the Writersroom website there are some lovely interviews with writers like Sally Wainwright, Roy Williams and Debbie Oates – I like the film where writers select their Desert Island DVDs. 
9. On the subject of Desert Island Discs, a reminder that this Sunday's castaway on the Radio 4 programme is Burmese Nobel Peace Prize winner, Aung San Suu Kyi.
10. And finally, BBC Films released their favourite bloopers from 2012 this week – definitely worth a look if you're in search of a giggle.
Hannah Khalil is Digital Content Producer, About The BBC website and blog.