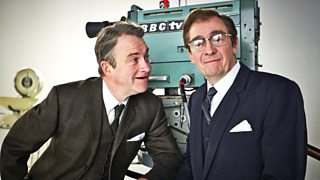 It's smiles all round as BBC programmes and personalities put in a good showing at the British Comedy Awards 2014. Harry Enfield and Paul Whitehouse's tribute to BBC Two to tie in with the network's 50th birthday Harry and Paul's Story of the Twos (pictured) won both the Best Sketch Show and Best Comedy Moment of 2014 awards.
While Graham Norton took home trophies for Best Comedy Entertainment programme (for his BBC One show) and Best Comedy Entertainment personality.
BBC Two's Rev starring Tom Hollander won Best Comedy Drama and Would I Lie To You took Best Comedy Panel.
Bad Education's Jack Whitehall was crowned "king of comedy" for the third time. Mrs Brown's Boys writer, actor and creator Brendan O'Carroll was given a special honour from the Writers' Guild of Great Britain.
Congratulations to all the winners, a full list of whom can be seen at the British Comedy Awards website.
Hannah Khalil is Digital Content Producer, About the BBC website and blog.