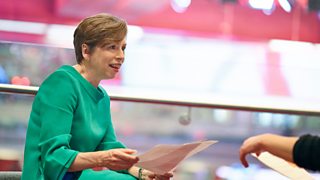 On 12 December UK voters will go to the polls to choose who runs the country.
It is a democratic event of huge significance.
This is an election like none of recent times. The last December General Election was in 1923, a year after the first ever BBC News broadcast.
Then as now, the BBC is the UK's primary source for news. People turn to us for accurate and trusted journalism. We want to make all our election coverage useful, relevant, and engaging to watch, listen to or read.
Today we've announced some of the highlights of that coverage - and I wanted to set out the principles which underlie everything we do.
We have one simple priority over the next few weeks - our audiences. They have a wide range of views, and political allegiances, and we are here to serve all of them, wherever they live, whatever they think, and however they choose to vote.
What does that mean in practice?
It means we will report on, scrutinise, and interview representatives from all relevant political parties.
It means everyone will hear people on BBC News they don't agree with, and opinions they don't share.
It means we can't - and don't - take political sides.
We will never choose a preferred party or electoral candidate and never try and tell our audiences to think one way or another. Our journalists won't tell you who they're voting for.
We will make judgements on the facts and endeavour in a complicated world to provide our audiences with the information they need - so they can make up their own minds.
Our aim is to achieve due impartiality. That means understanding that not all issues are 'on the one hand, on the other hand'. We do not support 'false balance'. There are facts and there are judgements to be made. And we will make them where that is appropriate.
That means covering the political parties proportionately and fairly - taking into account a range of factors, including their past and current electoral support.
We're not trying to include voices from opposing sides in every single news report, programme or tweet. On some days one party may be in the news more than the others - for example if it launches an election manifesto or if there is some particular controversy. There is no exact mathematical formula when it comes to this. But over time achieving fair and proportionate coverage will be the standard we hold ourselves to.
People who put themselves up for election or play a high-profile role in a political party should expect to be scrutinised - but they should also expect to be able to make their case to voters. That is about allowing democracy to function well.
Interviewing is not 'platforming' and reporting someone's words isn't an endorsement of what they've said.
We know that there are people who find this uncomfortable, especially at a time when so many issues are hotly contested. The recent report by industry regulator Ofcom found that "people are increasingly avoiding spaces and programmes where their ideas are challenged". The BBC provides the space for conversations from many points of view, to help people make informed decisions.
We are here to report, to scrutinise, to challenge and to fact check.
There will be 650 individual contests which decide who sits in Downing Street by Christmas.
It will take the combined resources of the whole of the BBC - from every corner of the United Kingdom - to do justice to this. We are the only media organisation with the ambition, reach and commitment to tell each of those stories.
It's impossible to predict the next six weeks. But whatever happens, we want our audiences to know they can continue to rely on us.