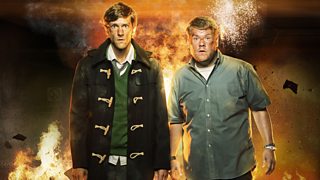 The Wrong Mans
The nominations for the British Academy Television Awards 2014 have been announced and BBC programmes are selected in 23 of the 24 categories. In many cases BBC programmes are in competition with each other for gongs, and in the Supporting Actress and Male Performance in a Comedy categories co-stars (from Last Tango in Halifax and The Wrong Mans) are actually running against one another for the prizes (awkward).
A big hand to the people in BBC One drama for their sterling work on The Village which has been nominated in three categories, Leading Actress (Maxine Peake), Supporting Actor (Nico Mirallegro) and Drama Series.
Regular visitors to this blog won't be surprised that the About the BBC team are very pleased Great British Bake Off has been nominated for Best Feature and the Radio Times Reader award (it's true, we're a bit obsessed with cake). Inevitably, I'm very happy that Borgen is in line for a gong in the International category.
Here's a list of the BBC nominations (admittedly, there are other broadcasters who are nominated this year):
LEADING ACTOR
Jamie Dornan, The Fall – BBC Two
Luke Newberry, In The Flesh – BBC Three
Dominic West, Burton and Taylor – BBC Four
LEADING ACTRESS
Helena Bonham Carter, Burton and Taylor – BBC Four
Maxine Peake, The Village – BBC One
SUPPORTING ACTOR
Jerome Flynn, Ripper Street – BBC One
Nico Mirallegro, The Village – BBC One
SUPPORTING ACTRESS
Sarah Lancashire, Last Tango in Halifax – BBC One
Nicola Walker, Last Tango in Halifax – BBC One
ENTERTAINMENT PERFORMANCE
Sarah Millican, The Sarah Millican Television Programme – BBC Two
Graham Norton, The Graham Norton Show – BBC One
FEMALE PERFORMANCE IN A COMEDY PROGRAMME
Kerry Howard, Him & Her: The Wedding – BBC Three
MALE PERFORMANCE IN A COMEDY PROGRAMME
Matthew Baynton, The Wrong Mans – BBC Two
James Corden, The Wrong Mans – BBC Two
SINGLE DRAMA
An Adventure in Space and Time, Mark Gatiss, Matt Strevens, Terry McDonough, Caroline Skinner – BBC Wales/BBC America/BBC Two
The Wipers Times, David Parfitt, Andy De Emmony, Ian Hislop, Nick Newman – Trademark Films/BBC Two
MINI-SERIES
The Fall, Allan Cubitt, Jakob Verbruggen, Julian Stevens, Gub Neil - Fables Lts/Artists Studio/BBC Two
The Great Train Robbery, Production Team - World Productions/BBC One
In the Flesh, Hilary Martin, Ann Harrison-Baxter, Dominic Mitchell, Jonny Campbell – BBC Drama Production Salford/BBC America/BBC Three
DRAMA SERIES
Top of the Lake, Emile Sherman, Iain Canning, Jane Campion, Philippa Campbell – See-Saw Films/BBC Two
The Village, Production Team - Company Pictures/BBC One
SOAP & CONTINUING DRAMA
Casualty, Production Team – BBC Drama Productions/BBC One
EastEnders, Production Team – BBC Productions/BBC One
Holby City, Production Team – BBC Drama Productions/BBC One
INTERNATIONAL
Borgen, Adam Price, Tobias Lindholm, Jannik Johansen, Camilla Hammerich - DR/BBC Four
FACTUAL SERIES
Keeping Britain Alive: The NHS in a Day, Magnus Temple, Amy Flanagan, Zac Beattie, Susannah Price – The Garden Productions/BBC Two
The Route Masters: Running London's Roads, Edmund Coulthard, Alistair Pegg, Matt Pelly, Simon Gilchrist - Blast! Films/BBC Two
SPECIALIST FACTUAL
Martin Luther King: The March on Washington, John Akomfrah, Lina Gopaul, David Lawson – Smoking Dogs Films/BBC Two
Story of the Jews, Production Team – Oxford Film and Television/BBC Two
SINGLE DOCUMENTARY
The Unspeakable Crime: Rape, Sara Hardy, Blue Ryan, Emma Hindley, Gwyn Jones - Goldstar Productions/BBC One
FEATURES
The Choir: Sing While You Work, Gareth Malone, Tim Carter, Rachel Morgan, Stuart Froude – Twenty Twenty Television/BBC Two
The Great British Bake Off, Annabel Beattie, Amanda Westwood, Samantha Beddoes, Simon Evans - Love Productions/BBC Two
REALITY & CONSTRUCTED FACTUAL
Dragons' Den, Ceri Aston, Steven Handley, Paul Newton, Angela Williams - BBC Entertainment Production Salford/BBC Two
NEWS COVERAGE
The Dale Cregan Verdict: North West Tonight Spercial, Production Team – BBC News/Northwest Tonight Special/BBC One
SPORT & LIVE EVENT
Bollywood Carmen Live, Production Team – BBC Sports/BBC Three
Glastonbury 2013, Production Team – BBC Music Productions/BBC Two
Wimbledon Men's Final, Production Team- BBC Sports/BBC One
ENTERTAINMENT PROGRAMME
Strictly Come Dancing, Production Team – BBC Entertainment/BBC One
COMEDY AND COMEDY ENTERTAINMENT PROGRAMME
The Graham Norton Show, Production Team - So Television/BBC One
The Revolution Will Be Televised, Jolyon Rubinstein, Heydon Prowse, Mark Talbot, Joe Wade – Hat Trick Productions/BBC Three
Would I Lie To You?, Peter Holmes, Ruth Phillips, Rachel Ablett, Barbara Wiltshire – Zeppatron/BBC One
SITUATION COMEDY
Count Arthur Strong, Steve Delaney, Graham Linehan, Richard Boden - Retort/Komedia/Delightful Industries co-production/BBC Two
Him & Her: the Wedding, Kenton Allen, Stefan Golaszewski, Lyndsay Robinson, Richard Laxton - Big Talk Productions/BBC Three


RADIO TIMES AUDIENCE AWARD (voted for by members of the public)
Doctor Who: Day of the Doctor
The Great British Bake Off
As well as celebrating two nominations here, BBC Two drama The Fall, (which has been nominated for Best Actor - Jamie Dornan - and Best Mini Series) deserve tea and cake aplenty for winning Best Drama in the IFTAS (Irish Film and Television Awards) last night (Sunday 6 April).
See a full list of the British Academy nominations on the BAFTA website. Winners will be announced at a ceremony on Sunday 18 May 2014.
Hannah Khalil is Digital Content Producer, About the BBC Website and Blog.