When I first wandered in to a radio drama studio in Broadcasting House, back in the early 1980s, it seemed to me that I was going back to another era. It wasn't just the Eastern Bloc décor  - utility furniture and a hundred shades of beige -  but the chain-smoking cardiganed actors (of both sexes) and the frequent post-recording outings to The George.
Even so, I caught the radio drama bug and was soon relishing every opportunity to spend hours in a windowless studio piecing together stories in sound. And then one day my boss, legendary Script Editor Richard Imison, introduced me to a dapper, well-dressed visitor.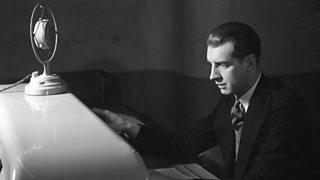 Co-founder of the BBC, Mr Cecil Lewis at the D.C panel
Cecil Lewis, in his nineties but looking twenty years younger, had been a fighter pilot in the First War, and had flown sorties over the Somme. Looking for a new challenge in the early 1920s, he was one of the four men to start the BBC, and on the 16th February 1923 he had produced the first radio drama broadcast, with actors Robert Atkins and Basil Gill playing the quarrel scene (Act 4 Sc 3) from Shakespeare's Julius Caesar.
Cecil Lewis, and Val Gielgud (brother of the more famous John) who succeeded him as Productions Director both realised that they had a challenge in persuading actors to act to the microphone rather than the back row of the stalls. Val Gielgud tells a story about how he had to get two studio assistants to pin the particularly histrionic Henry Ainley to the back wall of the studio when he tried to bellow lines from Othello into the mic.
They also had to deal with a general mistrust of broadcasting from the profession as a whole. Actors were convinced that sound broadcasting would mean the end of the theatre. In spite of this the drama broadcasts went ahead and in May 1923 director Nigel Playfair tackled the first full-length radio Shakespeare – Twelfth Night. With Cathleen Nesbitt (who had been engaged to the poet Rupert Brooke before he died in the war) who doubled the roles Viola and Sebastian.
Further full length Shakespeare productions followed, but then on the 14th January 1924, Cecil Lewis told novelist Richard Hughes that there was a gap in the following days schedule, and asked if he could provide something to fill it. Richard Hughes offered to write a play and the next morning delivered 'The Comedy of Danger' a 17-minute drama set in the claustrophobic and entirely unlit ambience of a coal mine. Radio drama – an entirely new dramatic genre – was born.
Thirty years later, the hugely popular Saturday Night Theatre strand was getting regular audiences of nearly seven million listeners, and now, ninety years after that first radio scene from Julius Caesar, radio drama is still going strong on the BBC, with hundreds of new plays commissioned every year, and more than a million listeners tuning in every day.
To mark the 90th anniversary we have recorded a new approach to the quarrel scene in Julius Caesar. Harriet Walter and Jenny Jules have been appearing in Phyllida Lloyd's all-female production at London's Donmar Warehouse. Their recording of the scene can be heard on Radio 3's The Verb on Friday 15th February, and on Radio 4 Extra at 11.55 am on Saturday 16th February.
Jeremy Mortimer is Executive Producer, Radio Drama.
An edition of Desert Island Discs featuring Cecil Lewis, co-founder of the BBC broadcast on Sunday 12 May 1991 is available to download.