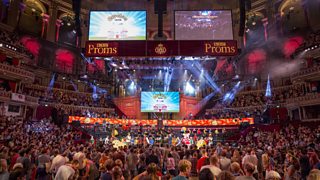 Image credit: Guy Levy
Last year when they announced the first CBeebies Prom I thought: "that's a good idea" and then failed to get off my bum and book tickets before it sold out. So this year when I discovered it was back again - and this time for two performances - I made it my mission to get there.
Tickets acquired, my four-year-old and I headed to Kensington. An admission: I am not the sort of mum who gets pleasure from being around a lot of children. But there was something intensely inspiring about seeing the Royal Albert Hall - this iconic, historical institution - taken over by under-5s. Everywhere you looked there were children and they didn't care this was the RAH, they were coming to see their CBeebies friends.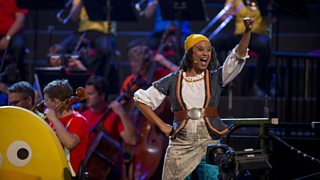 Presenter Gemma Hunt, image credit: Guy Levy
Mini-me and I took our places and she asked me if she was allowed to talk during the show. I told her not to worry just to listen and respond to what happened on stage.
Then the lights went down and the presenters (all familiar to any CBeebies aficionado) came out on stage - Andy Day, Ben Faulks (AKA Mr Bloom), Gemma Hunt, Chris Jarvis, Rebecca Keatley, Steven Kynman and Cat Sandion.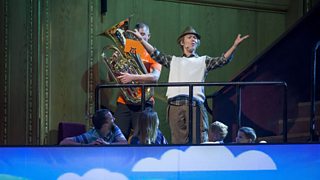 Ben Faulks (AKA Mr Bloom), Image credit: Guy Levy
My daughter was mesmerised, they said "hello" and then introduced the BBC Concert Orchestra and the conductor Jessica Cottis. The orchestra wore bright t-shirts and came on in an ad-hoc, informal way: there was nothing remotely intimidating about this performance. They played the opening piece - an Overture of CBeebies theme tunes, and we all clapped along.
That done, Jessica turned to us, the audience, and said that the orchestra now needed to warm up. My daughter looked at me questioningly - I explained it was to make sure they were all in tune with one another, and she replied she didn't want them to, as they already sounded perfect.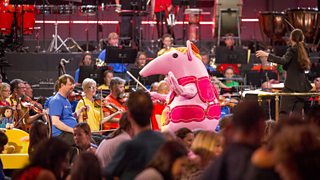 Image credit: Guy Levy
That's when a strange thing happened: you expect crying at any event for under-5s ... but not from the parents. Yet tears were running down my face and continued to at points during the concert, as I scanned the auditorium looking from excited face to cheeky grin, I found it hard not to cry. I can't quite attest as to why this happened - but on reflection it feels like a few things both came together to cause the waterworks. Firstly, a very personal thing, watching my little girl listen intently to music by Prokofiev, Beethoven, Korngold, Maxwell Davies and Richard Strauss - she looked so grown up and was so engaged, I couldn't help but imagine her as an adult perhaps sitting in this very concert hall one day in the future listening to music.
The second reason is something my ed Jon Jacob put eloquently into words in his Proms blog from last year, he wrote:
"A Proms experience is difficult to shake ... I do have a weakness for live broadcast. And in addition, I adore being amongst a crowd during a live broadcast too: there is an infectious kind of energy... There is a thrill to be experienced when one sees a mass of people all sitting in attendance for the same reason you are. It is a collective experience. Regardless of the actual performance, just being in the presence of 6,000 people is an incredibly moving experience."
And I think it's that collective experience that I found so very affecting - especially knowing this would be many of these little people's first experience of live classical music. I also can't deny feeling proud that the BBC produces this kind of event and caters to this very important audience of pre-schoolers.
The performance ended with Marquez's Conga del Fuego, which got people dancing in the aisles, and as we headed into the sunshine my daughter said she'd decided she wanted to be a conductor like Jessica. I wonder how many kids that were there left with similar aspirations as a result of that Prom. And you never know - some of them may even fulfill those dreams... Excuse me I seem to need a tissue.