We launched BBC Ideas earlier this year on a cold January day. We'd done our audience research, built a new website, and made and commissioned a bunch of 'short films for curious minds'.
With people spending more and more of their leisure time with a smartphone in hand, the BBC is in a unique position to inform, educate and entertain through building on the best of what we do and using our partnerships to bring big ideas and intelligent thought to online audiences. The aim is to help make the time people spend online more meaningful.
Six months on, we've published around 250 videos covering a range of subjects including psychology, anthropology, sociology, and philosophy. The ideas can be big (What is populism?) or small (Should I wear trainers to work? Justine Roberts founder of Mumsnet certainly thinks so!). And we can see that there is a clear appetite for the content we've been creating. We've had high levels of appreciation on social media and the number of people coming to the site is growing really well – we've averaged 450,000 people each week over the last month.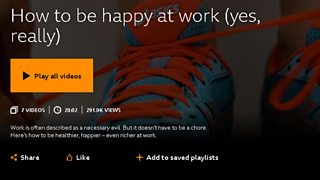 In today's increasingly fast-paced world, the general rule for digital content is that it has be short (or even super-short). However, introducing audiences to new ideas and ways of thinking about the world around them can take a bit of time. Our videos, each of which are part of editorially curated playlists, average between two and four minutes, but can be as long as eight minutes, and yet, we have been receiving high completion rates.
There's also clear evidence that people are watching more than one video in a playlist at a time. This is really encouraging for us and something we will continue to build on. High completion rates and multiple views per playlist show that BBC Ideas is meeting people's demand for easy-to-find, thought-provoking content in today's click-bait heavy, digital landscape.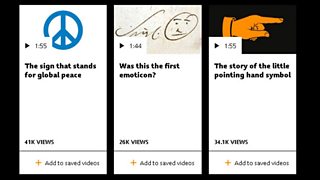 We've also been getting some fascinating insights into our audience's digital diets. Content which offers advice on self-development has emerged as a significant trend. Videos about how to achieve a better work-life balance; how to quit social media and how to develop an 'elastic mind', have all proved popular.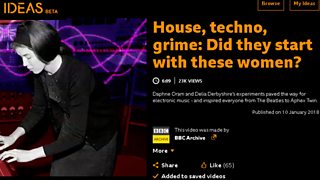 Nostalgia is another key trend. We've been working closely with the BBC archive team to bring to life little-known stories, such as the women who pioneered electronic music at the BBC. It's been shared over 13 thousand times and viewed over 1.7 million times on social media.
Death is another subject which seems to be preying on our users' minds. Videos such as 'Why dying is not as bad as you think' and 'the Irish approach to death' have been really popular on social media, with millions of views and thousands of comments and shares.
Partnership is important to us – it helps us bring a diverse range of voices, ideas and opinions to our content, and since we launched we've established a formal partnership with the Open University and worked with the likes of Nesta at Futurefest, the British Academy, the Science Museum and Ozyfest. We've also published great videos from across the BBC, including Radio 3, Radio 4, BBC Four, World Service, and BBC Scotland as well as more than 55 videos from the independent production sector. There are lots more in the pipeline too as we launch our fourth commissioning round.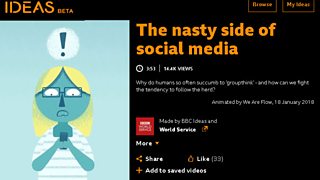 What does the future hold for BBCs Ideas? Well, we've had our beta phase extended to the end of March 2019, and in that time we will continue creating great content and helping develop new talent, both in front of the camera and behind the scenes. You can expect some exciting collaborations from us later in the year too, which will see us continue building on our relationships with external partners to create content which focuses on big ideas in a way that feels fresh, creative and represents the society around us as widely as possible. Through BBC Ideas we're exploring how best to reinvent and develop how we offer audiences intelligent, thoughtful and often fun short films about ideas in a way that reflects people's changing online viewing habits.
Bethan Jinkinson is Executive Editor BBC Ideas