Alex Dunlop, BBC News Correspondent and Look East regular, was filming an assignment at Banham Zoo in Norfolk. He was covering the annual 'stock take' or animal count, when he thought it would be a good idea to enter the lemur enclosure to film his piece to camera. Here he explains how, in hindsight, he probably should have chosen a less enthusiastic animal...
BBC reporter Alex Dunlop encounters lemurs at Banham Zoo
It's a tad surreal seeing this video go global. I can see why they call it "viral". I'm watching it on the internet, spreading out like ink on blotting paper... first on social media sites like twitter and instagram. It then takes foothold in another country and then another continent. By then the traction is phenomenal - online news websites take it on, followed soon after by broadcasters worldwide.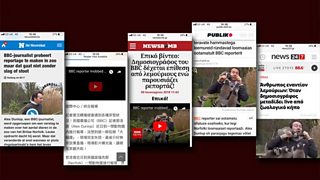 Articles from around the world about Alex's encounter with lemurs at Banham Zoo
Doing a piece to cameras with a few lemurs seemed like a good idea before I entered their pen, but quickly descended into farce. Break it down and three things were at play here - a brilliant edit by the BBC East online team, greedy ring-tailed lemurs and (did you spot it?) a dominant rogue red ruffed lemur which was trying to dominate and drive away the others. That's what made them flip - that and handful of tasty nibbles.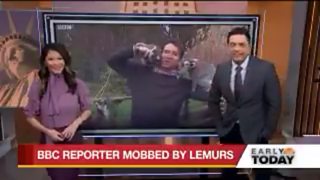 Dunlop's report even makes the NBC Morning Show in America
To think, thirty years in the business reporting on serious-minded issues from places like Afghanistan and Iraq, and my journalistic epitaph could be this... being mobbed by a bunch of Lemurs in Norfolk.
For the record, only one injury was sustained at Banham Zoo - my pride.
Alex Dunlop is a BBC News Correspondent.
The clip that went viral on twitter was made up from outtakes of a rehearsal for a report that was broadcast on BBC Look East on Thursday 4 January, 2018