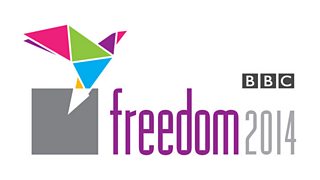 This weekend BBC Global News began its Freedom Season across radio, television and online – in English and 27 languages. But, in some way the idea of a freedom season on the BBC World Service makes no sense.  It is an issue we have to deal with every hour of every day – whether it is protests, insurrections, peace-keeping or the freedom to create, invent, to do business or to learn. Why have a season?
It's also an ideal difficult to define and also the idea of what freedom means is constantly changing. We did a survey of our audiences – the BBC World Service has a 'Global Minds' group of about 6,000 people around the world. Around 80% of them said that their idea of freedom was framed on how they wanted to live their personal life. Not political or national freedom but something much more personal to them. I'm not sure it's the same result we would have had two decades ago.
So this run of programmes brings together a great variety of subjects, locations, images and personalities. We see how people are press-ganged onto Thai fishing boats, and how press freedoms are battled over in countries like Turkey, and we also look at the way people express their hopes of freedom through music whether it's through a particular song or through a whole underground movement.
These programmes emerged from the encounters and experiences gathered by people who work in BBC Global News. The Global News division consists of thousands of people who broadcast in English and in 27 other languages around the world across radio, TV, online and via social media. It also includes our Monitoring Unit, and Media Action which helps in development around the world. They put their ideas of freedom into a creative challenge – open to everyone wherever they work in the organisation. There were hundreds of brilliant ideas – these are just some of them which we have managed to develop, and I hope they take us further in pursuing topics and ideas than we can normally do in our daily news output.
This is a collection of programmes that give a snap-shot of the changing way people see freedom.
We start with an investigation into how some of those working on fishing vessels off the coast of Thailand are living in virtual slavery and the measures by police and international businesses to curb the practice. At the end of the season we examine the effect of one man's search for freedom – at the expense if his own family who after his attempted escape from Ceausescu's regime in Romania were monitored for every moment of every day by the secret police.
In between we go on many different journeys – looking at the lives of single women in India, talking to China's would be pop stars, and hearing the voices of former inmates of Guantanamo. In Missing Histories we go to both China and Japan to understand how the freedom to know you own country's history is affecting a new generation. 
Our snap-shots of the debate about freedom are rooted in people's own stories. To take that further still we have asked our worldwide audience to add their own stories. We are asking what does freedom look like or sound like and to submit those images and audio to us over the coming weeks.
To start the process and offer some inspiration the first contributions come from a number of well-known global figures describing what freedom looks like to them in a collection of specially commissioned works. These include astronaut commander Chris Hadfield, Wikipedia founder Jimmy Wales, and anti-FGM campaigner Leyla Hussein.
And just maybe together with our audience we will go through locked doors.
Steve Titherington is Senior Commissioning Editor for BBC World Service.
Freedom2014 is available via the BBC News site: bbc.co.uk/freedom, the season's hashtag is #freedom2014.