Four years ago, Roly Keating (then Director of Archive Content) wrote a post on the About the BBC blog about adding links from BBC programme pages to places to buy BBC programmes on DVD and Blu-Ray. A year later, I wrote a post on the Internet Blog about improvements to the feature, including the addition of links to digital services such as iTunes.
Today, coinciding with the launch of BBC Store - a new service from the BBC that lets you instantly own digital copies of programmes you love - we're adding 'Places to buy' links to BBC iPlayer. To quote my 2012 blog post "The motivation remains the same: help licence fee payers to find the programmes their licence fee helped create, even when they are no longer on television, radio or BBC iPlayer."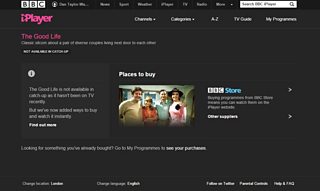 The Good Life 'Places to buy' page in BBC iPlayer
As our new feature page explains, the licence fee covers the cost of making most programmes available on BBC iPlayer for 30 days after they've been on TV, which will remain the case. What we're adding is the ability to enjoy BBC programmes after the 30 days are up – by buying them to keep and watch whenever, wherever you like. Just look out for the 'Places to Buy' link on programmes across iPlayer to see what purchase options are available.
Buying from BBC Store means you can watch your purchases on iPlayer. Simply sign in to access all your purchases in the My Programmes section of iPlayer. Today you'll be able to watch your purchases back on the iPlayer website, whether accessed via a computer, tablet or mobile and we'll soon be adding the ability to playback your purchases via the BBC iPlayer mobile apps and next year, via iPlayer on TV. We also plan to add the option to download BBC Store purchases via BBC iPlayer to watch offline.
So, what about some real-world examples of the difference this new feature will make? Below is a message we received from an iPlayer user recently asking how they could get a copy of Darcey Bussell's Looking for Audrey after its 30 day catch-up period, to share with their granddaughter:
"How can I see Darcey Bussell's Looking for Audrey? I watched the programme on catch-up, but unfortunately it has now been deleted. My granddaughter adores Audrey and did not see the original programme, so I have tried to watch on iPlayer, however, it is no longer available. How can I get a recording of this programme?"
As of today, we're able to direct them to the associated 'Darcey Bussell's Looking for Audrey Places to buy' page where they can click through to buy from BBC Store and then watch it back as many times as they like in BBC iPlayer.
Below are a couple of other examples of contacts we've received recently from iPlayer users who could now benefit from iPlayer's 'Places to buy' links.
"Blitz Cities was one of the most poignant pieces of television I have ever seen - a remarkable piece of research and production work. It was profoundly & genuinely touching and its displacement created a real wave of emotion. Unfortunately I cannot find it on iPlayer or in BBC published material. Where can I get a copy or re-view?"
"How can I access Proms concerts when they've disappeared off iPlayer? Will they come up for sale in the BBC shop? My 91 year old mother, who has Alzheimer's, has got SO much pleasure from watching Proms concerts on my iPad, using a bluetooth speaker to enhance the sound. In particular the Beethoven concerts have absorbed and delighted her for three weeks, and I am dreading next week, when they will start to disappear from the iPlayer. What can I do?"
I hope that the addition of 'Places to buy' links in iPlayer will enable lots of people to find and enjoy BBC programmes that wouldn't otherwise have been available to watch. I'm off to binge on the original House of Cards…
Dan Taylor-Watt is Head of iPlayer, BBC Digital