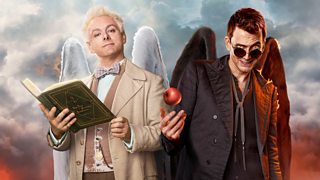 I always start with the character and with Good Omens, they're all there on the page already. Terry and Neil write in such an all-encompassing way, you can't help but lap it up.
So, I start with the character, getting my initial ideas down and then I meet the actor. Actors always come in with their own ideas of how they want the character to look and it's important that they feel comfortable in what they're wearing. At first, I had David (who plays Crowley) in a sharp suit but I could tell straightaway that he wasn't comfortable in what I'd chosen. We had a chat and he wanted something more rock n roll, more Keith Richards, so we changed it and it worked brilliantly.
Aziraphale, on the other hand, is the polar opposite. He's the comfortable old sofa, the one who's hanging onto the things he loves from where he settled, in about the 1850s.
There's also Gabriel (played by Jon Hamm) who isn't in the original book, but was written by Neil just for this series. Gabriel just had to look perfect, so I set Jon up with a menswear designer I know and we made a beautiful lilac cashmere coat, which Jon wore perfectly.
How to dress the Four Horsemen Of The Apocalypse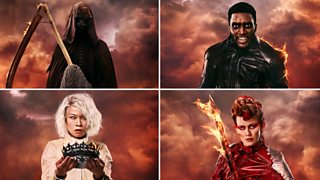 As with all the other characters in Good Omens, the Four Horsemen are written in a way that makes it was fairly easy for me to get an idea of what I wanted to create.
Death
He's a looming, non-descript, dark and ominous figure.
Famine
For Famine, I looked at Mr Pearl, a 1980s Disco sidekick who had an extraordinarily small waist for a man.
War
I channelled Kate Adie for this one. War is a war correspondent, so she had to have things that would be useful for travelling around the world, like a scarf that she can use to cover her hair or face. When she's on the motorbike, we give her more armour to make her more warrior-like.
Pollution
Pollution had to look grubby and dirty, she worked on an oil rig at some point, so I wanted to make that part of how she looked. She also had to stand out because I knew that we'd be using a really wide shot when she was introduced so she had to be visible.
The Horsemen all match or reflect one of The Them in some way. We didn't want to make it too obvious because The Them need to be their own characters, but they tend to wear the same colours as their Horseman counterpart.
How I became a Costume Designer
I started out as a Dye Assistant for the Royal Opera House in Covent Garden. While I was doing that, I was painting up paper designs for the couture market in Europe but I loved seeing my work in action on stage.
I then went to do an MA at Central Saint Martins and then moved on to do some teaching. I started working on an Irish film and when that finished, I unexpectedly bumped into Matthew Littleford who was producing a show for BBC Two and asked me to meet him. That was my real start as a Costume Designer.
To be honest, I didn't even know that Costume Designer was a job. I thought I would be a Window Dresser or Hairdresser… I suppose dressing has always been there in some shape or form!
Good Omens will be on BBC Two and BBC iPlayer at 9pm on Wednesday 15 January.