You may have sifted through the millions of BBC radio and television listings available on BBC Genome, remembering those forgotten childhood programmes, checking out what was on when you were being born, or dispelling doubts about a transmission date or actor's name. But did you know that around 8,500 of these programmes are also permanently available online to watch and listen to? We suspect not.
In an effort to make BBC Genome a useful tool for discovering the BBC between 1923 and 2009, we've embarked on a mission to link the BBC listing entries to 282 television programmes, most of which are currently available through the BBC Four archive collection on BBC iPlayer, and 8,200 radio programmes already accessible on the BBC website.
So from today, whenever you search for a particular listing, we will let you know if you can watch or listen to the programme. You might stumble upon it while searching for programmes by date, channel or keyword, and it will appear as a link to iPlayer.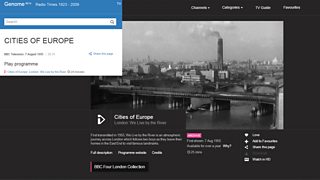 An idea of what the Genome listings will look like
You'll also be able to filter your search terms with ones which have "programme available" in the Advanced search. And better still, if you want to find all of the programmes which can be played, then you can run an empty search and filter the results on the Advanced tab by "programme available".
We're also celebrating by launching our very own BBC Genome blog which we will use to highlight archive gems, remind you of historical firsts, enjoy some banter and tell you all about the exciting developments in the pipeline. We're really looking forward to hearing from you.
On our first blog post, the person in charge of linking to those 8,500 programmes available online will reveal how she did it – and share some of her favourite findings.
We also want the blog to become the place where you share your memories about participating or watching a particular programme. So do drop by and help us find those unusual listings or archive treasures you find while exploring BBC Genome.
Ana Lucía González is Senior Producer, Archive Development