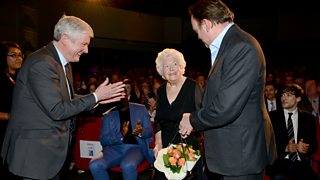 Tony Hall with June Spencer
The third annual BBC Audio Drama Awards were staged at the Radio Theatre, Broadcasting House. Jon Jacob went along and put names to voices.
Audio drama awards are on paper rather odd affairs, especially if like me you're someone who has a radio play on in the background whilst carrying out a monotonous but meditative task. Radio drama titles – unless they're returning series or the 'everyday story of country folk'- don't stick in my mind. Less so the names of those who write, perform and produce the work.  There, I've said it. Sorry Studio 60A.
This is one reason why the BBC's Audio Drama Awards – now in their third year – are staged. Exponents of the genre now have a chance to stand on stage and be acknowledged for their skills and expertise. And rightly so. It's about time. Radio drama celebrates 90 years in 2014 – 90 years since the first specially commissioned radio drama was broadcast. A genre birthed by technology, and now prized by so many as to warrant an entire department devoted to encouraging writers and vetting their scripts. An awards ceremony seems only right and proper.
But the prospect of the event doesn't immediately excite: unfamiliar people whose names I've never heard before, collecting trophies for plays I don't 100% recall. Radio 4 for example broadcasts a play every weekday of every week of the year – BBC Radio Drama is the biggest commissioner of new writing in the world. Even if I did take notice of the titles, would I have remembered them all?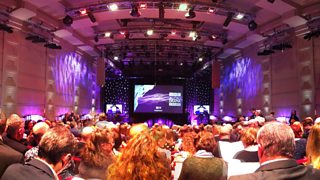 It's clear from the atmosphere in the Radio Theatre in Broadcasting House that this is a special, well-meant and much-appreciated affair. It's easy to venture why: a small group of people who join together for a short but intense period of time to make a 'one-off' performance, the sum total of which is available as semi-permanent record afterwards. Radio drama is the most intense kind of day-job. And then you get to reunite for a trip down memory lane and the chance of a nod and a round of applause.
But the atmosphere in the room isn't an exclusive one, nor alienating for us part-time radio listeners. Instead, it's revealing. This is the human face – always sincere, always enthusiastic and sometimes surprisingly nervous when they're on stage collecting an award – of relatively anonymous performers. Despite the gentle competition inherent in the evening, warmth emanates from the assembled audience, and when the late Claire Grove is announced as the winner of the Outstanding Contribution to Radio Drama, I'm reminded that all who work in the genre are to all intents and purposes a family.
I bristle with excitement when I realise that two of the awards are given to people sitting either side of me: Claire Rushbrook (who I'm sure I recognise from something on the telly) is unequivocal when she collects her award: "it's a privilege to work in BBC Radio drama"; and, Lee Ross (I definitely recognise him from the telly)'who sadly can't be with us tonight', whose award is collected by a lady with shoulder-length curly hair.
I beam with misplaced fan-boy pride when indie production company Big Finish clinch the Best Non-Broadcast Audio Drama for their Doctor Who drama with Paul McGann – Dark Eyes: The Great War.  And what radio drama event would be complete without an appearance from Martin Jarvis who – to the best of my knowledge – is one of the most prolific actors on radio, TV and stage. Little wonder I recognise him. A delight to hear his voice - like being reunited with an old friend.
But, what I'm unprepared for is the Lifetime Achievement Award. A lady called June Spencer (pictured at top). "She's the longest serving cast member of the drama, and recently suffered the loss of her on-air husband Jack…" Oh my God, I recognise her. That's Peggy Archer, isn't it? A picture appears on the display screen in front of us: a woman who sounds like everyone's perfect grandmother and looks it too in her light blue floral print blouse and thick locks of white hair. Tony Hall continues with his introduction before stepping forward to help June – still performing at the age of 94 – to her feet. Tears well in my eyes. Any Archers fan would feel the same, I'm sure.
The BBC Audio Drama Awards sing the praises of people us listeners - to a greater or lesser extent - take for granted. At the same time they form a vital part of our cultural landscape which all too often remains distant from its audience. Witnessing this rare kind of warmth is a special thing and makes listening to the output a must as a result.
Jon Jacob is Editor, About the BBC Website and Blog