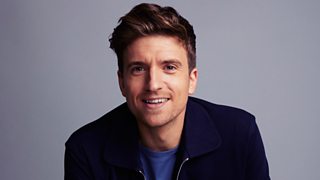 In every job there are good days and then sometimes, if you are lucky, there are really great days. One of the best days I had recently was when I asked Greg James to be the next presenter of the Radio 1 Breakfast Show. The look on his face as he realised his childhood dream had come true was an utter joy.
Now, no pressure, but he has just landed one of the most important jobs in the radio industry. And at a key time in its history. Greg needs to continue Radio 1's task of bringing in new young audiences to the BBC. So, how will he compete with today's on-demand content, on a national radio station?
It is a fundamental question for an industry that is up against the constant need to check your phone for updates and the ever growing amount of material aimed at you as an individual. Content that was once considered too niche, now free from a controlled live schedule, can find a large and loyal audience.
The good news for Greg is that Radio 1 has evolved to become a multi-platform brand because it needs to 'fish where the fish are' in order to take on that challenge. Radio 1 has been disrupting its traditional thinking in order to answer this question and been succeeding in getting new audiences in new ways. Our strategy of 'listen, watch, share' means we create content that 10 million people listen to, 16 million people view and 10 million people follow on social media a week.
As well as winning new consumers with on-demand audio, short form video and various posts, live radio listeners remain central to what we do. In fact, the competition has made us realise what we have got and what our advantage is. The DJ is your trusted friend introducing you to new music and making you smile, production makes the music have pace and energy, especially when it is mixed, and of course it is live - anything could happen.
In fact, the radio programme should be considered the perfect symbiotic relationship for digital content, as it is the heart beat, it is the heat and the energy, that propels a song or an interview or a moment out of the general noise of your phone and to the forefront of the zeitgeist of the office, school playground or society at large.
When the alarm goes off in the morning, you want to connect with the world and find out what everyone is talking about. I don't want to wake up, be trolled, feel insecure about the way I look, or be depressed about how my friends lives are better than mine - that can wait till later in the day! I do want a fun, friendly and warm way of starting my day, and that's what Greg will give you. He has the skill of choosing topics that unite young audiences, he will make you laugh, he will make you and your stories the star of the show. And when that power of the personality is added to the wonderful serendipity of discovering your new favourite song and the excitement of live radio where anything might happen, the Radio 1 Breakfast Show will continue to be the most important platform for youth culture in the UK.
Join Greg every morning for the Radio 1 Breakfast Show from 6.30am.