In June I wrote about the first release of BBC Sounds, a new audio product from the BBC, bringing together our live and on-demand radio, music and podcasts into a single personalised experience.
Today, I'm updating on the development of the BBC Sounds mobile app (available from the Apple App Store, Google Play Store and Amazon Appstore) and the first release of BBC Sounds on the web.
As mentioned in my June post, we're deliberately taking an iterative approach to developing BBC Sounds, enabling us to improve the product in response to your feedback and how you use it. Whilst well-established as best-practice in software development, this approach is an adjustment for some people using the app.
When we launched the first version of the app back in June, we thought that there would be two features in the current BBC iPlayer Radio that audiences would also want on BBC Sounds; the ability to download programmes to listen offline and the option to browse our radio station schedules. However, rather than hold back the app whilst we developed this functionality, we released a first version in order to start getting feedback from you.
Sure enough, downloads and schedules were the two most requested features in both survey responses and app store reviews, validating that we were working on two of the highest priority features for current users of the app. In September we added programme downloads to the app and this week, we're rolling out schedules.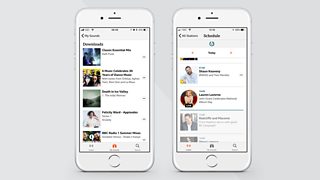 Downloads and schedules on the BBC Sounds app
Your feedback has also helped us prioritise smaller updates to the app, such as adding a Drama category to the Categories section on the home screen, renaming 'My List' as 'Bookmarks' to make the functionality clearer, adding support for AirPlay 2 (enabling playback via some Sonos speakers) and improving the accessibility of the app.
We've got lots more updates planned over the coming months including Autoplay functionality and support for Chromecast, Apple CarPlay and Android Auto.
We've also taken an iterative approach to developing BBC Sounds on the web, by testing new pages and features under the BBC iPlayer Radio banner and using A/B testing, feedback surveys and user research to understand what's working well and what needs improvement.
Today, we're releasing the first version of BBC Sounds on the web. Like the mobile app home screen, the web homepage (aka 'Listen') is all about helping you to get listening as quickly as possible. As with BBC iPlayer Radio before it, we do ask that you sign-in to listen; this helps us understand more about what different people are listening to in order to ensure we are providing something for everyone. It also enables us to provide you with easier access to your favourite programmes and podcasts and introduce you to other audio you might otherwise never have discovered. We think there are huge benefits in this more personal service, helping you find relevant content from the 80,000 hours available, however if you don't want to take advantage we do provide the option to turn off personalisation in your BBC Account settings.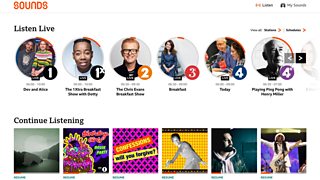 BBC Sounds web homepage
At the top of the homepage is the Listen Live section, showing what's on all of our national radio stations (and how far through the programmes are), with links to view all stations (including 40 local stations) and schedules. Clicking on a station takes you straight to our new live playback page, where you can instantly restart the live programme and, for music programmes, see recent tracks (both features we'll soon be bringing to the mobile app).
The homepage also has various sections designed to help you discover and enjoy the best of our on-demand programmes and podcasts and stay in control of your listening. As on the mobile app, Continue Listening displays episodes and podcasts you're part way through, so you can easily pick up where you left off, whether that was on a computer, tablet or mobile phone (your listening seamlessly syncs between the website and mobile app). Recommended For You, as the name suggests, provides a dozen recommendations of audio we think you'll enjoy based on your listening - the more you listen, the better it gets.
Clicking on any on-demand programme or podcast takes you to our new on-demand playback page which, after playing your chosen selection, automatically cues up a playlist of other on-demand audio to continue your listening experience, much like our broadcast stations. We'll be continuing to refine the logic of this play queue and have provided the option to cancel playback of the next item or switch Autoplay off altogether if you're only ever after shorter listening sessions. We will very soon be adding tracklists to the new on-demand playback page and improving the playback controls in line with the app.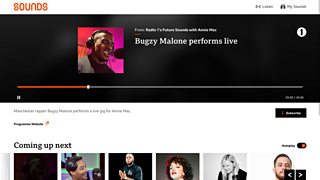 New on-demand playback page
There's also an option to 'subscribe' to any programme or podcast, which adds it to your personalised feed of latest episodes in My Sounds, so you'll never miss out on an episode of your favourite programme or podcast.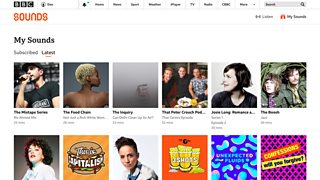 Latest in My Sounds
As with the app, we've got lots more enhancements planned for BBC Sounds on the web but we're also keen to hear your thoughts on how the experience could be further improved, so do leave any suggestions in the comments section below. If you'd like to keep up-to-date with all things BBC Sounds then you can now follow our new Twitter account @BBCSounds.
And if you'd like to get really involved with shaping the future of BBC Sounds, why not come and join us? We're hiring…