A round up of BBC announcements, press releases and blogs, plus some highlights from our TV, radio and online output from the last week.
FIFA World Cup 2018
The BBC is the only destination for 24/7 coverage of football's greatest tournament this summer as the best players from across the globe descend on Russia for the FIFA World Cup 2018.
BBC Young Musician 2018
Sixteen year-old pianist Lauren Zhang from Birmingham has been named the winner of BBC Young Musician 2018. The Grand Final of BBC Young Musician 2018 took place on Sunday 13 May at Symphony Hall, Birmingham.
The Biggest Weekend
This week we announced plans for broadcasting The Biggest Weekend across TV, radio and online on the late May bank holiday weekend.
Announcements and blogs
Drama
BBC Two announced this week that Toby Stephens, Keeley Hawes, Linus Roache and Timothy Spall will lead cast of Stephen Poliakoff's Summer Of Rockets.
Elsewhere, BBC Three confirmed it will air new Australian comedy-drama series 600 Bottles of Wine, a four-part short form series which will be available to watch on BBC Three from 10am on Sunday 27 May.
Meanwhile, BBC Four announced an all female cast and writers for Snatches: Moments From 100 Years Of Women's Lives curated by the Royal Court Theatre's Artistic Director Vicky Featherstone.
Comedy
BBC One confirmed that Tracey Ullman will be back for three new episodes of Tracey Breaks The News with her unique comic spin on the headlines, including her impressions of politicians and celebrities.
Factual
Stars from the world of music, comedy, sport, television and film are set to join in the 15th series of Bafta- winning genealogy show Who Do You Think You Are? when it returns to BBC One this summer.
Meanwhile, BBC, UKTV and FremantleMedia International have embarked on a groundbreaking collaboration for an ambitious prime-time adventure series, Expedition With Steve Backshall.
Entertainment
BBC One's Celebrity MasterChef is set for another summer of sizzling excitement with a who's who of sport, show business, music and drama parking their day jobs to compete for the iconic title.
Arts
BBC Arts this week launched a first-time playwright initiative, DEBUT: Bim Adewunmi, Katherine Parkinson, Beryl Richards and Frank Skinner are to produce new plays for Edinburgh Fringe.
BBC Music
BBC Music has announced a brand new three-day music discovery festival - BBC Music Introducing LIVE 18. Taking place from 8-10 November 2018, the event will welcome 15,000 budding musicians and industry talent at London's iconic Tobacco Dock.
Children's
There is another Royal Wedding taking place on 19 May. Hey Duggee character King Tiger has met his perfect partner and is getting married in a brand new episode, titled Hey Duggee & The Wedding Badge.
Radio
Radio 3 announced that, in a bold challenge to traditional behaviour at classical concerts, the BBC Philharmonic will be inviting audiences to keep their mobile phones ON next season in Philharmonic Lab for Bach to the Future.
Meanwhile it was confirmed that, in the same quarter that the digital share of listening to BBC radio reached 50 percent for the first time, all of the BBC's digital stations attracted more listeners compared to the same period last year according to the RAJARS.
Regional
BBC Cymru Wales has announced its new presenting team for its flagship English-language daily news programme Wales Today.
Meanwhile, on Tuesday 5 June, we're hosting an exclusive preview of the first episode of hit BBC One drama Poldark in Redruth, Cornwall at the Regal Cinema.
Elsewhere, on Thursday BBC Radio Ulster/Foyle confirmed it remains the most listened to radio station in Northern Ireland, according to the latest RAJAR (Radio Joint Audio Research) figures for Quarter One (January-March) 2018.
International
BBC Hausa launched its Women's Writing Contest 2018. It is now open for entries from all women writing in Hausa, irrespective of their nationality or experience. Entries must be engaging works of fiction on any topic and should be between 1,000 and 1,500 words. A panel of judges will select one winner and two runners-up.
Blogs
Director of Radio and Education James Purnell shared some thoughts ahead of the RAJARs, and we published the weekly BBC iPlayer Highlights 19-25 May.
Broadcast Highlights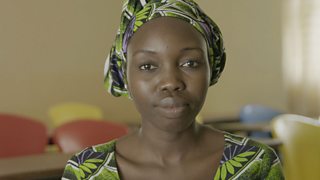 Nigeria's Stolen Daughters