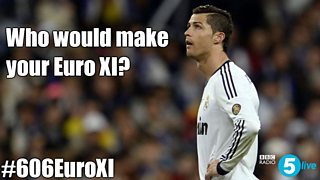 Petr Cech or Joe Hart? Lewandowski or Van Persie? Pirlo or Xavi Alonso?
This weekend is the Eurovision Song Contest, so it would be wrong for us not do a Euro XI on tonight's show. And of course we want a manager too! We're going to use your suggestions to create the 606 Euro XI.
Golden rules:
- They must be current players.
- They can be playing football anywhere in the world, but they must be from a European country. E.g. Clarence Seedorf is currently playing for Brazilian club Botafogo, but it Dutch so he would be eligible. David Luiz plays in England, but is Brazilian so he would not be eligible.
Tonight's hosts, Darren Fletcher and Jason Roberts have already picked their XI's:
Fletch's Euro XI:
Manager: Antonio Conte
Buffon
Lahm
Hummels
Barzagli
Jordi Alba
Bale
Xavi
Schweinsteiger
Ronaldo
Lewandowski 
van Persie
Jason's Euro XI:
Manager: Sir Alex Ferguson
Buffon
Lahm
Hummels
Boateng
Alaba
Gundogan
Schweinsteiger
Mata
Bale
Ronaldo
Lewandowski
There are plenty of ways in which you can let us know your suggestions:
- Comment below
- Via Twitter using #606EuroXI
- Via the 606 Facebook page
- By texting 850 58 during tonight's show
- And our favourite - the phone - 0500 909 693.
By the end of the show, we'll have your Euro XI, which we'll post on here! Watch this space.