The black armband protest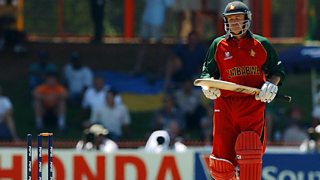 Interviewing Andy Flower about the black armband protest was one of the most intense and moving one to ones I have experienced.
In ten years he has never talked in depth about events that led to him fleeing his homeland after the Cricket World Cup of 2003. The memories brought out emotions in the England coach that are rarely associated with the man who has plotted famous Ashes wins home and away and who took England to Number One in the World.
I first got talking to Flower about Zimbabwe over dinner in January last year when England were on tour in Dubai. We discussed the state of cricket in the country and the fact that his brother Grant had returned to help coach the national side.
It was clear that he was extremely passionate about the country – indeed he is fiercely proud to call himself a Zimbabwean – and little by little I became curious to ask about his famous protest with Henry Olonga.
When I realised that February this year would be the ten year anniversary, it seemed a pertinent time to see if Flower would be prepared to open up and speak about that turbulent, life changing period on record. After all, he has never written a book about it or delivered speeches on the topic as Olonga has done.
He has never felt it appropriate to do so, given the various professional positions he has held since then. In the immediate aftermath of the protest he did talk to the media about the plight of Zimbabwe in order to carry on highlighting the problems, but after a while he felt he wasn't making any difference, so he withdrew from the topic.
It became apparent very early in our meeting at a Buckinghamshire country house hotel that he is reminded of the protest every day. More significantly, he is reminded of the reasons behind it, as he told me he keeps a framed copy of the statement issued by he and Olonga on 10th February 2003, on the wall of his study at home.
Preview of Black Armband - The Full Story
When I asked him to read the statement for the recording, it turned out to be the first time he had spoken those words out loud in ten years. As he neared the end he struggled to keep his voice from cracking, and when he read the last line the emotion was evident in eyes that glanced up, brimming with emotion. It momentarily took me aback. I hadn't realised it would affect him so much.
He also got emotional when talking about his children. Flower has not stepped foot in Zimbabwe since he left all those years ago, but feels he would be safe to do so now, and to take his three children back, who were all born there. "I want to show them the country. I want them to meet some of my friends. I want to show them what the country is about. It's a huge part of our background and history… I'd love to go back."
Most revealing about Flower, the man, was his last answer to me, when I asked if he had any regrets about the way his life has panned out as a result of wearing a black armband on the sleeve of his cricket shirt.
Despite all the success he has had in his cricket career Flower doesn't profess to be a perfect human being and there are lots of things he regrets. But he will always look back and feel he did the right thing when he took a stand with Henry Olonga a decade ago.
Black Armband - The Full Story is on 5 live at 7pm on Thursday 7 February. Listen to the programme here or download after broadcast here.