Formula One Singapore GP: When the lights go out
Bruno Senna just couldn't keep his car on the course and consistently kissed the wall at turn 21. His weekend was a complete write-off and at this time of the year, that is definitely not what you want.
Left then right suspension, a new front wing and a five-place grid penalty for having to replace his gearbox in his final crash in qualifying. After losing KERS on lap 16 and an immense tussle with Felipe Massa, his car slowed and came to a halt on the final lap suffering from a loss of power - a costly weekend.
Michael Schumacher, Mark Webber, Kamui Kobayashi, Sebastian Vettel and Jenson Button all had an appointment in front of the stewards. The wrap sheet was pretty long and us journos were kept waiting for a healthy time as they decided what punishments to dole out.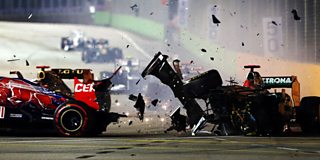 The biggest offender had to be Schumacher. What caused the seven times world champion to mount the back of Jean-Eric Vergne's car at the end of the safety car period I do not know.
Maybe at 43 his eyes aren't quite what they used to be? Maybe he is more easily distracted than he used to be? Whatever the reason for his shunt with Vergne (which, at T14 was the same corner and the same mistake he made with Perez last year) it was not a good weekend for the German and he will go into the Japan Grand Prix with a ten place grid penalty. Some in the paddock think he got off lightly considering the ban Romain Grosjean received after his crash in Spa.
Mark Webber had another bad weekend, picking up a 20 second race time penalty after his tangle with the Sauber of Kobayashi, which dropped him out of the points.
Meanwhile, Lewis Hamilton could well have dropped out of the championship race after his gearbox gave up the ghost as he was 'coasting' to his fourth win of the season. There was nothing he could do as his McLaren became the first retirement of the race. He is now 52 points behind leader Fernando Alonso.
There were some good weekends to be had - Sebastian Vettel got away with his brake test behind the safety car, firstly Button managed not to smash into the back of him, and secondly the stewards decided no punishment should be given to the German.
He was sailing a little close to the wind but a win is a win and his second win of the season is definitely something for him to celebrate. After the race Vettel dedicated his win to the late Sid Watkins - a really nice touch for 'The Prof' who passed away last week.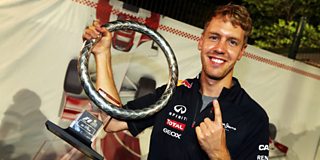 In 2010, after the Singapore Grand Prix
Sebastian Vettel was 21 points off the lead in fourth place, leaving the German with it all to do and still he managed to get his hands on the title. 29 points separate him from leader Alonso and the crown - only a mad man would write him off now.
Which brings us nicely on to Driver of the Day. There are two nominees for this; Felipe Massa and Paul di Resta. Massa was masterful and aggressive and did very well to save both his car and that of Bruno Senna, as he careered under the bridge almost wiping them both out. It was nice to see some fire in the belly of the man from Brazil, but is it too little too late for a seat next year?
Personally though, my driver of the day was di Resta (and his team). They took a car that didn't seem to suit the Singapore track on Friday, stripped it back and began the whole process again. This resulted in a fantastic qualifying for Paul, equaling his best ever grid position of sixth.
After the race he said without the second safety car there was a chance he could have finished on the podium, but fourth is a great step forward, especially ahead of the Mercedes of Nico Rosberg (the Force India car powered by the Merc engine).
Paul clearly has intentions of driving for a championship winning team and he showcased this weekend that he is ready for that step. Whether a seat will be there for him in 2013 is still a doubt, although my hunch is that he will step in the car of Michael Schumacher and stay with Mercedes - the team he won DTM with and the team powering his current car.
Talking about driver movements (as we have to at this time of year) my analogy of the paddock being a little like the back yards of a small market town, tittle-tattle being discussed over fences and while hanging washing up, doesn't seem too far off the mark.
Everyone has an opinion but I don't think the guessing games will have to go on much longer. Maybe only until the middle of this week when the Paris Motor Show takes place. Will this be the day that we finally find out what Lewis Hamilton will be doing for 2013?
For what it's worth, I think he will be staying at McLaren - but what do I know?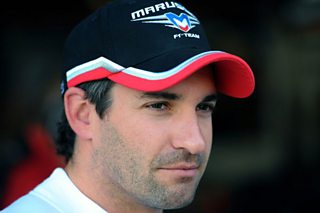 Before we head to the first of three back-to-back fly away races my final word has to go to Marussia and Timo Glock. What a fantastic result for them at Singapore - 12th place to many would be a failure but to a new team, like Marussia, Caterham and HRT, it is dreamland - the stuff futures are made of.
So Japan and Korea await us next and maybe a driver announcement or two as well.
Remember you can get in touch on Facebook Jennie Gow-presenter or on twitter @jenniegow.
Finally congratulations to Dave Smithson who correctly predicted the first three across the line in Singapore - the first right answer from three races! A prize will be winging itself to you shortly.