The Vicar Of Dibley in Lockdown: What the Must Watch reviewers think
Every week, the Must Watch podcasters review the biggest TV and streaming shows.
This week, Hayley Campbell and Scott Bryan share their thoughts on The Vicar Of Dibley in Lockdown.
Dawn French reprises her role as the character she played between 1994 and 2007. In a series of mini-episodes the vicar delivers sermons to her parishioners via Zoom.
Have you been watching it? What did you think? Leave your comments below...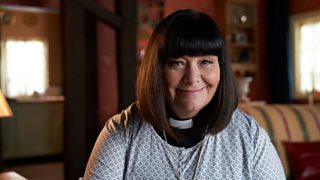 (CREDIT: BBC/Tiger Aspect Productions Ltd/Des Willie)
Hayley says: "A very long ten minutes"
"I will give them credit for making them ten minutes long which is perfect, and also five minutes shorter than David Tennant and Michael Sheen's 'Staged.' That feels like a thing Richard Curtis watched and went: 'Yes, I can do that!'.
"However, that show was funny, whereas this is full of jokes that could have been funny two weeks into the first lockdown, but now that we're out of the second one they just feel tired and old.
Nobody is talking about singing 'Happy Birthday' while we wash our hands anymore or what is the equivalent time for doing that. We did all of these jokes back in March, so to me this felt like a forgettable DVD extra and a very long ten minutes."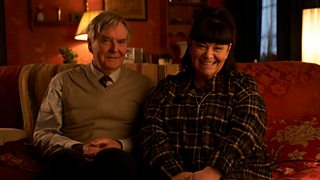 (CREDIT: BBC/Tiger Aspect Productions Ltd/Des Willie)
Scott says: "General nonsense"
"I feel sorry for television makers at the moment because you can't easily make a full blown Christmas special, that's why the Christmas schedules this time look a little bit stale compared to regular years. There are so many hoops you have to jump through to make everything safe, rules around social distancing and testing just to get people literally standing next to each other.
"I know exactly what Hayley means about the start of this lockdown special; they talk about the stuff that we're all already over or mentally over. Some of the best lockdown content, has a lockdown theme loosely related to it, but actually nothing related to it at all because it allowed us to have a distraction from the news.
"'Staged' I found was able to get away with it because it was incredibly well written, but also it was very early on in the lockdown world that we were in. I reckon if 'Staged' debuted now, we would be over it in the same way that I am over 'The Vicar of Dibley'.
"Having said that, I'm happy it's there. It's general nonsense, a tribute to Alice Tinker aka Emma Chambers in the second episode is really touching and heartfelt, but it is also one of those shows that is living off the success and its nostalgia for the love it once had, rather than actually providing anything new.
"I just don't think we'll talk about this special this time next year, like we have done with Gavin and Stacey."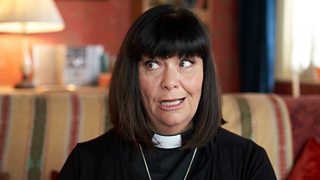 (CREDIT: BBC/Tiger Aspect Productions Ltd/Des Willie)
The Vicar Of Dibley in Lockdown is available now on BBC iplayer.
Must Watch is released as a podcast every Monday evening from BBC Sounds, or through your podcast app.
This week, the team also review Raised by Wolves on Sky Atlantic and Mariah Carey's Magical Christmas special on Apple TV plus.