5 live presenter Tony Livesey was just a teenager when his mum died. As part of a special 'Losing Mum' series for 5 live Drive, Tony spoke with others who've lost a parent at a young age, to explore the impact it's had.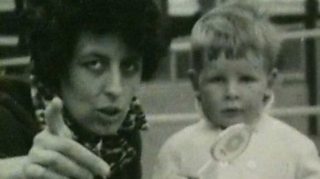 My mum died when I was 13. That's my story. Except it turns out… it's many people's story.
As Mother's Day approached I was persuaded to explore the emotions I have suppressed since her death. Neither she, nor I knew she had cancer. It was kept from us, for the sake of our sanity I assume. After the afternoon of her death many issues remained unresolved.
I can't talk about her without crying, which means I hardly ever do.
Why build a wall around her memory? Why the reluctance to celebrate a beautiful person?
Am I alone?
It quickly became clear this was an issue that thousands upon thousands of BBC Radio 5 live listeners have been wrestling with for decades, including money saving expert Martin Lewis.
Martin Lewis: 'I cried every day until I was 15'
Martin spoke bravely and emotionally about losing his mum suddenly, days before his twelfth birthday.
He said he cried every day until he was 15.
And he said he hates the fact that he believes that some of his success is a result of losing his mum: "There's a drive for a child who's lost a parent that nothing else will hurt you like what you've already been through."
Martin is now a patron of the charity Grief Encounter, which helps children through bereavement.
Martin was back on 5 live for his regular 'Lunch Money Martin' slot the following Monday.
He said he wanted to thank everyone for "the lovely messages, the shared grief and the outpouring and condolences."

He said 200 people had contacted Grief Encounter since the interview.

Martin said he'd heard a story about a parent who had been going to take their own life that day, but after he'd heard what Martin said, didn't want to put their children through what I'd been through.
Jonathan Walters: 'I lock it away. I have since the day she passed away'
Another man, this time Republic of Ireland and Premier League footballer Jonathan Walters.
He's also been unable to deal with the effect of his mum's death when he was 11, saying he dealt with it by "locking it away."
He told me he doesn't think he ever grieved properly, he said he built a wall.
We compared stories, we compared lives, he had a cry… but would it help? Keep reading to find out.
My story
I spoke to my sister Sharon, who was 18 when my mum passed away.
Could she explain the sense of fear and trepidation we felt in the face of the early death of a parent?
Sharon said to this day it's the worst thing that's ever happened to her.
"It is too painful to talk about, and people get upset, and people don't like to see you upset, and it is difficult."
She said it was interesting to find out that other people had buried their emotions too.
The whole process for all of us was bruising and thought-provoking.
Then, by chance, I bumped into Jonathan Walters in my gym a day after our interview had been seen and heard by millions.
He was transformed.
'Opening up was the best thing I've done'
Soon after we spoke, Jon posted a picture of his mum on social media.
He'd also spoken to his family and can now celebrate her life with them.
The response to our 'Losing Mum' series has been unprecedented on BBC Radio 5 live.
It is no exaggeration to say lives have been changed.
Crucially, the parents who passed away so many years ago are now being welcomed back into the lives of their families.
Your responses so far:
"Well done for airing this important subject. My mum is nearly 90. Her own mum died of TB when mum was a little girl of six. It was a different time and they didn't tell my mum that her mum had died until after the funeral. She's never got over it, even now."

"What a big man Jon Walters is. I lost my dad at 11 also and so much of what he has said resonates with me. Such a brave man."

"For the second time in 24 hours 5 live has reduced me to tears. Just compelling and heartbreaking radio. I can't even begin to imagine this kind of emotion."

"Tony, I'm at work crying as I know exactly what you and Martin are going through. God bless you both for doing this. Take care."

"These are courageous conversations. It's never too late to work through those feelings as frightening as that may seem. It can really help."
You can share your story and comments with us the comments below.