Michael McIntyre's The Wheel: What the Must Watch reviewers think
Every week, the Must Watch podcasters review the biggest TV and streaming shows.
This week, Scott Bryan and Hayley Campbell share their thoughts on Michael McIntyre's The Wheel.
The comedian hosts a new gameshow in which contestants are guided by celebrity experts.
Have you been watching it? What did you think? Leave your comments below...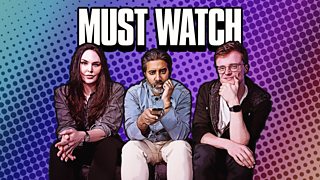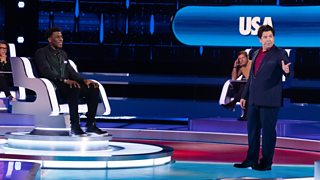 Credit: BBC/ Hungry Bear/ Gary Moyes
Scott says: "It doesn't go anywhere"
"This show is wild. They lift a contestant from a hole underneath the studio. Around them, located on different positions in a giant wheel, are different celebrities who have chosen a different specialist subject.
"Mel B's specialist subject was the 'Spice Girls'. Gok Wan's was 'Fashion'. Susie Dent was there too, her subject being 'Words'. Richard Arnold's was 'TV'. Joey Essex's was 'Dating'. Jason Donovon? 'Australia'. And finally there was Dermot O'Leary. His subject? 'World War Two'.
"Now, of course, everyone has interests outside their profession. I just found it hilarious comparing Dermot's subject to the others.
"The concept of the show is basically that thing in the playground that spun round and made you feel sick. Sometimes the spin lands on a celebrity that can help them with their chosen subject. Sometimes it doesn't. That's it. That's the whole show for an entire hour. It doesn't go anywhere.
"And oh my word the catchphrase. All you hear is "THE WHEEL, THE WHEEL, THE WHEEL" again and again and again. It drills into your brain."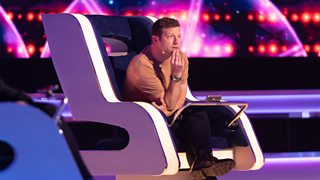 Credit: BBC/ Hungry Bear/ Gary Moyes
Hayley says: "Michael McIntyre is going full McIntyre on this"
"I thought Joey Essex came out the best because, for all of his nonsense, I thought he showed a lot of self-awareness in a way that was charming.
"He volunteered to be stood down as an expert on words, even though we know he invents them. (He was on our show once and I had to ask him what a 'wepskini' was and he explained it).
"What I also liked was that he landed on the right answers outside his specialist subject. Not for the reason that he knew them, but just because he 'felt like it'. Which proves you don't need to be smart to get some of these answers. For instance, I answered the question about what state Niagara Falls is in, not because I've been or am remotely good at geography (I'm not), but because I know that Pam and Jim in the American series of The Office got married there.
"How much you like it will depend on how much you like Michael McIntyre, because he's going full McIntyre on this. So if you are somewhat allergic to him, as I am, you might find this exhausting."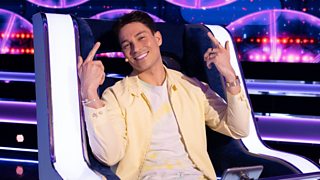 Credit: BBC/ Hungry Bear/ Gary Moyes
The Wheel is available now on BBC iPlayer.
Must Watch is released as a podcast every Monday evening from BBC Sounds, or through your podcast app.
This week, the team also review Into the Night on Netflix and Grayson's Art Club: The Exhibition on Channel 4.
Click here to listen to the latest episode.