Must Watch Christmas TV Special
Every week, the Must Watch podcasters review the biggest TV and streaming shows.
However, this week Hayley Campbell and Scott Bryan share their top recommendations for what's on this Christmas.
What will you be watching? Leave your comments below...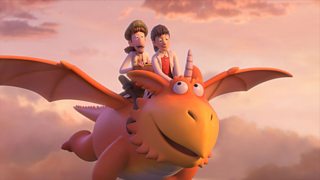 BBC/Magic Light Pictures
Scott recommends: Zog and the Flying Doctors (Christmas Day, BBC One, 2.35pm)
"You can't help but fall in love with Zog. He's a dragon that means well and helps his friends, but has a tendency to crash into things (spoiler: a lot). He last appeared on our screens in 2018 in an animation short, which was also nominated for an International Emmy. There's now a new film, airing just before The Queen's Speech, which features Zog and his friend Pearl, who wants to be a doctor, against her father's (also the King's) wishes.
"Whilst the film was commissioned prior to the coronavirus crisis, the coincidental themes in it of health and helping others will resonate with any viewer. The animation is also a delight - you can currently see little bits of it between any BBC One programme. It's this year's ident theme!"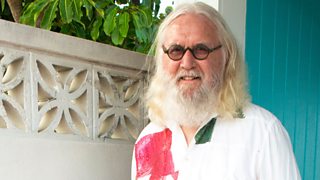 Scarlett Stephenson-Connolly / ITV
Hayley recommends: Billy Connolly: It's Been a Pleasure (ITV, Monday 28th December, 9.30pm)
"A couple of years ago Billy Connolly officially announced his retirement from live performance, which is sad and a great loss to us all. But the upshot is we get people putting together shows like this, which sounds like the kind of special that is only made AFTER a person dies when they can't see how much we loved them.
"In this one, we'll be seeing clips from his career to date, plus new footage of the Connolly at his home in Florida, along with lots of big names discussing his work (Sir Paul McCartney! Sir Elton John! Sir Lenny Henry! All the sirs, plus those yet to be personally acknowledged by the Queen: Whoopi Goldberg, Dustin Hoffman, Russell Brand, Aisling Bea, and Sheridan Smith).
"The press release promises this will be uplifting, so I hope it doesn't play like a eulogy. At the very least, we'll be able to see some great bits of stand-up from past shows without having to dig out our old VHS copies."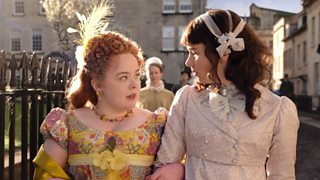 LIAM DANIEL/NETFLIX © 2020
Scott recommends Bridgerton (Netflix, Christmas Day)
"If you fancy a show that has got nothing to do with Christmas (I don't blame you) there's this star-studded adaptation of the Julia Quinn bestselling novels from the television genius that is Shonda Rhimes. Unlike a lot of period dramas on TV in the last few years, this drama set within Regency England is full of energy, raunchiness, intrigue and unpredictability.
"It also stars some of our finest and exciting actors at the moment: Nicola Coughlan from Derry Girls, Jonathan Bailey from Company and W1A, Regé-Jean Page from Roots. Listen out for Julie Andrews as the show's unseen narrator, as well as the surprising classical interpretations of modern songs, such as Ariana Grande."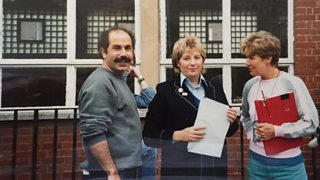 BBC/Phil McIntyre TV/Estate of Victoria Wood
Hayley recommends: Victoria Wood's Secret List (Christmas Day at 9:10pm and Boxing Day at 9:05pm, BBC Two)
"Victoria Wood, the much-loved comedian who most people will probably know from Dinnerladies, died in 2016 at the age of 62. Not long after, a personal notebook of hers was found where she had written down a list of her favourite sketches from her 40-year career.
"This show is basically all of those brought together, as chosen by Victoria Wood herself, over a two-part program. We'll also get to see other clips from her personal archive, as well as lots of comedians who knew and worked with her discussing her work. I think this one will be quite special."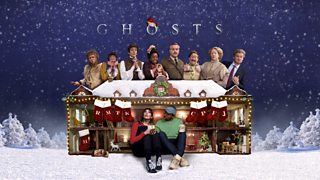 BBC/Monumental Television/Guido Mandozzi
Scott recommends: Ghosts (BBC One, 23rd December, 8:30pm)
"Ghosts is, quite simply, the comedy of the year. The family sitcom brought to you by the Horrible Histories team is back for a Christmas special, where Mike's (Kiell Smith-Bynoe) family come round for Christmas, as the ghosts who live there try to get in the way of their plans.
"I can't really explain due to spoiler reasons, but several scenes resonate so much more than expected because of the circumstances many of us are facing this Christmas. It was unintentional, the series filmed way before the coronavirus pandemic had taken hold, but after I watched it I was a mess afterwards."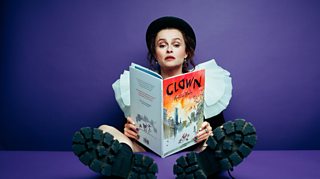 Channel 4 / Charlie Clift
Hayley recommends: Quentin Blake's Clown (Channel 4, Christmas Day, 7.40pm)
"Channel 4 have a long history of being very reliable with proper Christmas animations. In the past they've given us The Snowman, which is a stone cold classic, and last year it was The Tiger Who Came To Tea.
"This one is based on a picture book by Quentin Blake, the brilliant illustrator who most of us will know from reading Roald Dahl growing up (he illustrated books like The Twits and Matilda). Clown is all his own thing and it's about a toy clown who is thrown away with some old toys, so he jumps out of the bin and sets out to find a new home for himself and his friends. The book was told entirely through pictures and the film is largely silent too, except for narration by Helena Bonham Carter."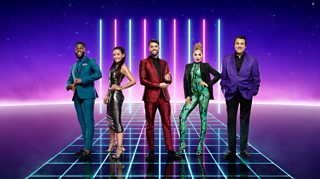 Bandicoot TV / ITV
Scott recommends: The Masked Singer (ITV, Boxing Day, 7pm)
"I never thought that I would be recommending The Masked Singer after having watched the first series, but after the depressing and sad year we've all had, I think there's an appetite for this delirious guilty pleasure.
"The show consists of celebrities singing in a baffling costume and the viewer trying to work out who it is for weeks on end. That's it. Weirdly, the appeal is thinking that there's someone 'A grade' in there, only to realise that the person inside the ostrich is someone from a reality show you haven't heard of.
"They've unveiled the costumes the celebrities are wearing this year and already several of them have appeared in my nightmares. I will never look at a grandfather clock in the same way again."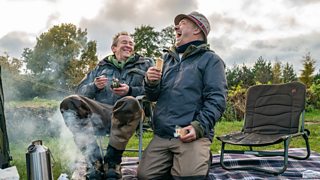 BBC/Owl Power/Pete Dadd
Hayley recommends: Mortimer and Whitehouse: Gone Christmas Fishing (iPlayer)
"I've spent a lot of 2020 going on about Mortimer & Whitehouse: Gone Fishing and I have no regrets. If you haven't watched it before, the basic premise is that in the last decade or so, Bob Mortimer and Paul Whitehouse have both had major heart surgeries for problems that were only detected at the last minute.
"When Mortimer was recovering, Whitehouse suggested he come on a fishing trip with him, as a way of getting him back into the rhythm of life. They both found it such a therapeutic thing that they turned it into a TV show.
"So it's basically just two old friends fishing in the British countryside, but it's also a lot more than that. It's poignant, it's philosophical, it's deeply dark and also very funny. This is more of that, but Mortimer has taken Whitehouse to his hometown for Christmas. I can't promise you there won't be tears."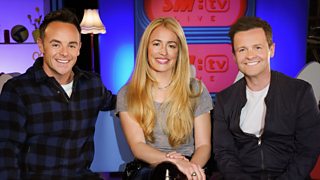 VE From ITV Studios
Scott recommends: The Story of SM:TV Live (Boxing Day, ITV, 9:25am)
"For a generation the words Wonkey Donkey, The Beautiful Corrs, Eat My Goal and Chums create memories of the iconic Saturday morning ITV kids show SM:TV Live. The show was beloved for its unpredictable feel and its exceptionally dry (and occasionally adult) humour. It also hugely boosted its hosts Cat Deeley and Ant & Dec.
"There has been talk of a reunion for a number of years, and here it is! The three head back to the set and talk about old memories. The documentary is even airing at 9:25am, the time that the show aired every Saturday. It's a heartwarming watch, surprising too when you learn that unlike what it is now remembered for, the earlier episodes were bad and it was trounced in the ratings by Live & Kicking. "We were so bad," Cat Deeley told us in the Must Watch Christmas Special. "I have to be honest ... never once have we put the first show on, even just for a laugh. It was so hideously embarrassing and it was like tumbleweed through the studio."
Must Watch is released as a podcast every Monday evening from BBC Sounds and all other good podcast providers.
In this week's festive edition the team speak to the cast of Ghosts and King Gary about their Christmas specials, Cat Deeley about The Story of SM:TV Live and Nicola Coughlan on Bridgerton.