Have you heard the one about the woman and the car?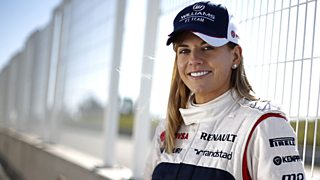 There are hundreds of 'hilarious' jokes made about women drivers. However, as more female drivers make their mark in motorsport the last laugh could well be on our male friends.
It's over 35 years since the last female took part in a Formula 1 race, but the tide is turning. For a BBC 5 live F1 special I decided to find out how close we are to having a serious competitor who could take on the likes of Jenson Button and Lewis Hamilton.
Joining me in the studio are the Williams pair of Susie Wolff, the team's development driver, and Claire Williams, Williams' deputy team principal. We also hear from motorsport icon Sir Stirling Moss and F1 head Bernie Ecclestone.
Let's start with a quick history lesson. The first female to ever take to the F1 circuit was Italian Maria Teresa de Filippis who competed in 1958/59. She started three races, cruising round the circuits at the same time as Juan Manuel Fangio - who treated her like a daughter and gave her driving tips - and our very own Stirling Moss.
Next came the most successful female so far, Lella Lombardi. The Italian made 12 starts between 1974 and 1976 and is the only woman to ever have scored points in F1: ½ a point for a 6th place finish in the 1975 Spanish GP.
Since then three women have tried and failed to qualify for a F1 race: Brit Davinia Galica, South African Desire Wilson and, most recently, Italian Giovanni Amati. Amati drove for Brabham in 1992 in three meetings.
It's not a glittering history and it's pretty short. So how bright is the future for women in Formula 1?
Susie Wolff made history last year when she was named as Williams F1 team development driver. She has seven years' experience driving in DTM (German touring cars) with Mercedes. She's also been a finalist in the BRDC McLaren Autosport Young Driver of the Year Award.
Susie knows she has to earn her place in the F1 paddock and is hopeful she can get a Young Driver test this season to do just that.
"When it was announced I was joining Williams people were saying, 'When are you on the grid?'" she tells me. "It's about learning to walk before you can run. It's about proving that I'm good enough at each step of the way; you have to prove your worth at every level."
"By no means do I think that I'm there just because I'm a girl or they want the publicity, I've got to be good enough to hold my place."
There are some people in the paddock who still think that women just don't have what it takes to drive at the top level.
Sir Stirling Moss says, "I don't know if women have the mental aptitude to race hard wheel to wheel. I just feel, as one would expect in a fight, I don't think women are equipped to come in and fight with men."
F1 boss Bernie Ecclestone thinks it's unlikely we'll see a women race in F1 any time soon, "unless someone has done something quite extraordinary in racing."
"The only chance they would have is one of the lesser teams and they would only take someone if they come along with a good sponsor to support the team," he says.
"Regretfully, this is what the problem is. There might be many, many, girls or ladies that could compete probably as well as some of the guys today but won't get a chance."
However, there is hope, according to F3 cup and GP3 racer Alice Powell. Alice is one of the brightest developing female talents we have in racing in our country. She has competed against boys and men, and beaten them repeatedly. With the right funding she could be a contender to at least test a Formula One car.
"I noticed people saying I cant get beaten by a girl but once you've shown you're not useless and you have a bit of speed they give you more respect,"  says Powell.
"I think it's all about the pennies, unfortunately. Male or female, you need someone to sponsor a driver and if you want a female in Formula 1 that's what it's going to need."
Will we have a female driver competing in F1 any time soon? Can Susie Wolff persuade Sir Frank Williams to give her a young driver test? Can Alice Powell get the budget to continue her career path to F1?
Interestingly, Red Bull have just signed their first female young driver. A real talent from the Netherlands, Beitske Visser is definitely one to watch and may well be the next great hope we have of seeing a woman competing in F1. Watch this space. 
Listen to Women Drivers at 9.30pm on Tuesday 30 April. The programme will be available for download after broadcast here.