Our commentary team will be scurrying around the grounds grabbing a few minutes with Rory McIlroy, Lee Westwood and the rest while our engineering team will be making sure we can commentate from all corners of the course come Friday. That's the second major part of work in the first few days.
It is a major technical challenge to be able to broadcast from all parts of a golf course on the other side of the Atlantic but I'm confident all will be fine. After all, we're due some luck; the 2006 Ryder Cup in Ireland was hit by the after effects of Hurricane Gordon, while it was the turn of Hurricane Ike to disrupt the build up to Valhalla in 2008, and biblical rain was the problem in Wales last time around.
However I've looked at the forecast. A lot. As far as I can tell - not being a trained meteorologist - I can't see Hurricane Bubba or any of his friends heading in the direction of the "Windy City" just yet.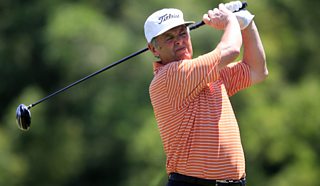 On Friday the action finally starts and you'll get shot by shot coverage on 5 live. John Inverdale will present the coverage alongside Iain Carter, Andrew Cotter, John Murray, Alistair Bruce-Ball and Conor McNamara. I'm delighted we'll once again be joined by a man steeped in Ryder Cup history, Bernard Gallacher, plus Andrew Coltart, who went toe to toe with Tiger Woods in the infamous Brookline event.
We're also very pleased to welcome multiple European Tour winner Simon Dyson to our team for the first time, plus our regular US voice for the Ryder Cup, PGA tour player Andrew Magee. Also joining us is former women's British Open Champion Karen Stupples, who played for Europe in their victorious Solheim Cup side last year.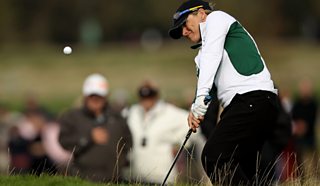 I hope you enjoy the commentary. Long before I produced it I was sitting listening on dark autumnal evenings, captivated by the drama of a sporting event from a far-away land; I'll always remember Alan Green using Seve Ballesteros as his analyst as the 1995 Ryder Cup reached its climax.
I recollect a fantastic former commentator called George Bailey who not only implored "come on Bernard" as Langer stood over the crucial putt in 1997, he then added "we've done it!" for good measure when the match was won. I can hear Ron Jones describing the American's "tumbling onto the green" when Justin Leonard holed that ridiculous putt at Brookline, and the excitement and enthusiasm of Tony Adamson as Paul McGinley won the Ryder cup back for Europe at the Belfry in 2002.
The Ryder Cup will always produce these moments. We've had just as many in the last four events which I've had the privilege of being involved in. I wonder what the defining moment of this week will be? Whatever it is, I hope you get the chance to listen to it on 5 live.