Raised by Wolves: What the Must Watch reviewers think
Every week, the Must Watch podcasters review the biggest TV and streaming shows.
This week, Scott Bryan and Hayley Campbell share their thoughts on Raised by Wolves.
The Sky Atlantic drama from director and producer Ridley Scott sees two androids attempt to raise human children on a new planet after a war on Earth.
Have you been watching it? What did you think? Leave your comments below...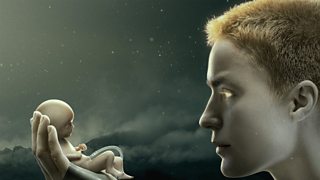 (CREDIT: Warner Media / HBO Max / Sky)
Scott says: "It's so bleak!"
"This show is incredibly dark. These androids are trying to raise these children on an alien planet and over the course of the first episode some very sad things happen to many of these children. It's so bleak! Every time I thought it was about to get more optimistic, it just went more negative. Of course, a show can be a downer, but when it is down it's not not captivating enough for you to stick along with. It just felt like a real depressing lecture and I couldn't get into any of the characters either.
"This show launched in the US on streaming service HBO Max in early September and it's now December and it's launching in the UK. For me, it doesn't really feel like the time of year to start a show like this."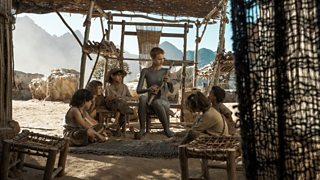 (CREDIT: Warner Media / HBO Max / Sky)
Hayley says "It just felt flat to me"
"This was my sole hope for a 'Must Watch' this week and I was disappointed and also bored. Ridley Scott can be great when he wants to be. He's only directed the first two episodes (and then he served as executive producer) but by being first the whole thing has a very Ridley Scott look to it: the mother character has a shaved head, the androids are visually human like in Blade Runner. Visually it's amazing and weird.
"As for the story, he gets to play with the clashes of artificial intelligence and the unpredictability of human nature. All of that sounds great and right up my street! But then it devolves and becomes superhero-ish. Like Scott said, it's unrelentingly bleak, which I think can be great if it's done well, but this never raises itself above traditional sci-fi tropes. It moves so slowly and so unemotionally that there's nothing that really rips your heart out like good sci-fi manages to do, somehow, no matter how cold and dark it gets. This just felt flat to me."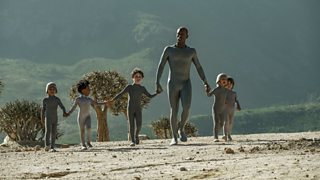 (CREDIT: Warner Media / HBO Max / Sky)
Raised by Wolves is available now on Sky On Demand and Now TV.
Must Watch is released as a podcast every Monday evening from BBC Sounds and all other good podcast providers.
This week, the team also review The Vicar of Dibley in Lockdown and Mariah Carey's Magical Christmas special on Apple TV plus. They also speak to Jon Richardson about the Christmas edition of Meet the Richardsons on Dave.