Intergalactic: What the Must Watch reviewers think
Every week, the Must Watch podcasters review the biggest TV and streaming shows.
This week Scott Bryan and Hayley Campbell share their thoughts on Sky One's Intergalactic. Parminder Nagra (Bend It Like Beckham) and Craig Parkinson (Line of Duty) and a whole host of fresh talent star in the sci-fi series. It follows a group of convicts in London in the year 2143 who go on the run.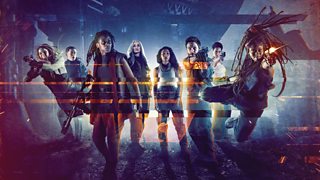 ©Sky UK Ltd
Hayley says: "I wanted it to end"
"This felt very deliberately like 80's and 90's action movies, and it's clearly made by fans of those movies. It had all the same beats, same sort of characters, same predictability, but the problem is I like those and I didn't like this.
"It may have been very expensive to make but the set looks like something you'd play Laser Quest in as a kid. It's very Prisoner: Cell Block H, and it's basically Con Air, but on a spaceship and without Nicolas Cage or Steve Buscemi.
"Then you've got all this CGI baloney, including the one character who can somehow manipulate her long dreadlocks like they're the arms of Doctor Octopus in Spider-Man.
"Then there's all these lazy lesbian overtones to the whole thing that makes it look like they're trying to pitch this show very specifically to a certain fan base who will champion it, but because it's so clichéd it feels like a desperate grab to look edgy.
"I thought it was complete nonsense, very noisy, very annoying and I wanted it to end. But you might like it, if you're in the market for some loud nonsense that's a bit like those movies you like."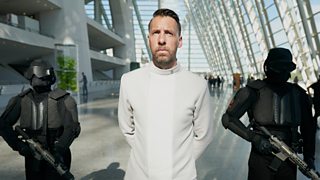 ©Sky UK Ltd
Scott says: "The most ridiculous amount of shouting"
"I've never known a show like this and not in a good way. The extremely fast plot never slows down. Everything that happens in one episode in this show could make an entire series. Yet you don't learn anything about the characters at the heart of the story, so you end up not caring much about their fate.
"It's not the cast's fault it feels utterly one-dimensional. It's just the breakneck speed of the plot. As this story is set in the future there has been so much emphasis on the look of everything, so much that you get distracted by it.
"There's also the most ridiculous amount of explosions, the most ridiculous amount of shouting. It's like they just had every single idea just put forward to them and they just said yes."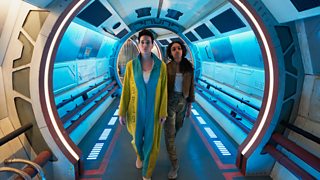 ©Sky UK Ltd
Must Watch is released as a podcast every Monday evening from BBC Sounds and all other good podcast providers.
This week, the team discuss the Line of Duty series 6 finale and series 2 of This Time with Alan Partridge. Plus, Emily Beecham on BBC One's The Pursuit of Love.