Mindhunter: What the Must Watch reviewers think
Must Watch reviewers Scott Bryan and Hayley Campbell share their thoughts on season two of Mindhunter, which is about FBI agents Holden Ford and Bill Tench attempting to understand the psychology of serial killers with groundbreaking behavioural analysis.
The series was produced by David Fincher (House of Cards) and Charlize Theron (Monster) and was inspired by real interviews.
It's available now on Netflix.
What do you think? Leave your comments below...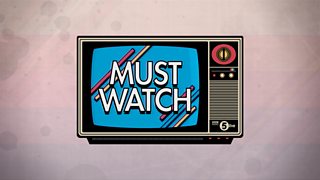 Listen to the latest episode of the Must Watch podcast on BBC Sounds.
Subscribe here, and never miss an episode.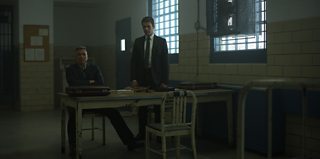 (Photo: Netflix)
Hayley says: "There's a lot about toxic masculinity in it"
"Mindhunter is one I love. I think season two starts slowly, but it is doing interesting things with the characters.
"The clever trick in Mindhunter is that you are supposedly watching a show about murderers, but it ends up being about the psychology of just completely normal men. It's just that these men, the ones in jail, have displayed their misogyny in a totally different way to the other guys.
"There's a lot about toxic masculinity in it and I think it's really clever.
"The plot is almost irrelevant, it's all about psychology. Season one came out in the same month that the Harvey Weinstein allegations came out and the whole #MeToo movement started, and I remember saying that there was no better time for a show about the terrible things men do to come out.
"Yes, it's a Must Watch."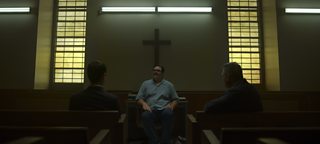 (Photo: Netflix)
Scott says: "It's not conforming to the usual type of thriller"
"I can't make out this show.
"I watched season one, and got completely sucked in to the first season. And then it's one of those shows, for whatever reason, I just stopped watching after seven episodes. I don't know why, I just stopped and went on to the next thing.
"And then with this second series I was really getting into it and then I was thinking 'will I watch the rest of the series?' I'm not so sure.
"I feel that the premise is so interesting, the fact that it deals so much around the psychology is so interesting, it's not conforming to the usual type of thriller which is like, loads of close-ups of corpses; it's all about psychology and all about the set-up of these interviews.
"I just sometimes feel that there is a bit of a pacing problem with the show. With season one, it just didn't deserve 10 episodes, it just dragged towards the end and I think that's why I dipped out.
"With season two, I just hope it's not repeating it, but then I keep thinking to myself, '10 more episodes of this, where's it going to go that makes me feel like I'm getting a proper development?'"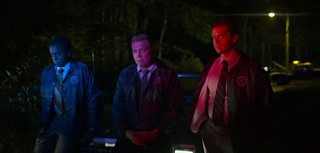 (Photo: Netflix)
Scott also gave us his rundown of the most bizarre killings on Midsomer Murders, including the time Martine McCutcheon's character was attacked with a wheel of Edam cheese (!)
To hear that you can download the Must Watch podcast from BBC Sounds, or through your podcast app.
Subscribe and leave your reviews.
Email us: mustwatch@bbc.co.uk